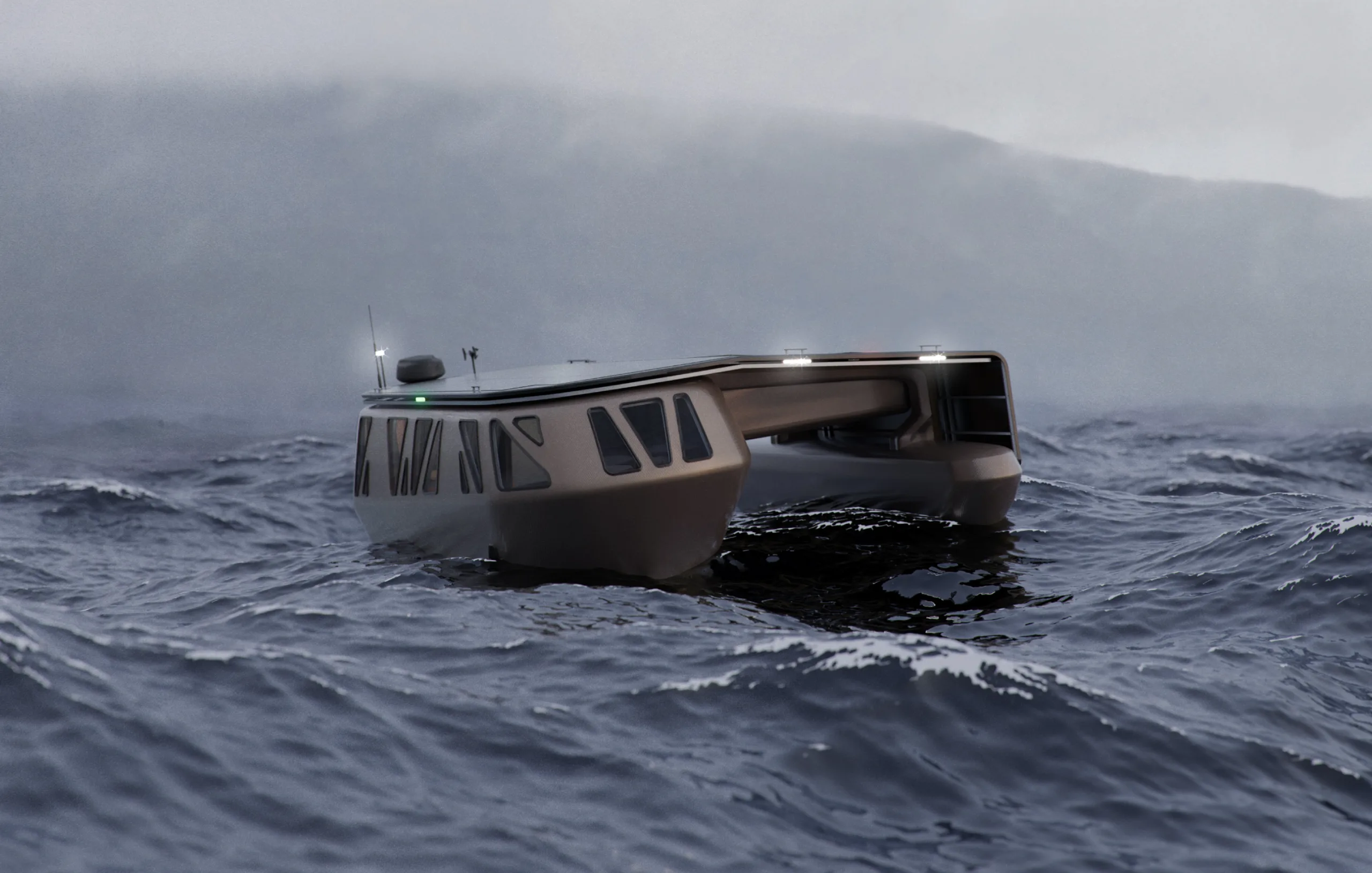 Blue Nomad
Blue Nomad is an initiative of students at Institut auf dem Rosenberg and developed by Pioneer Ventures in collaboration with SAGA Space Architects. It is a self-sufficient solar floating habitat showcasing a fossil-free future for living and travelling on the ocean. To address climate change, rising sea levels, and contemporary nomadism, Blue Nomad provides a small, comfortable, and permanent living space that is powered purely by solar power.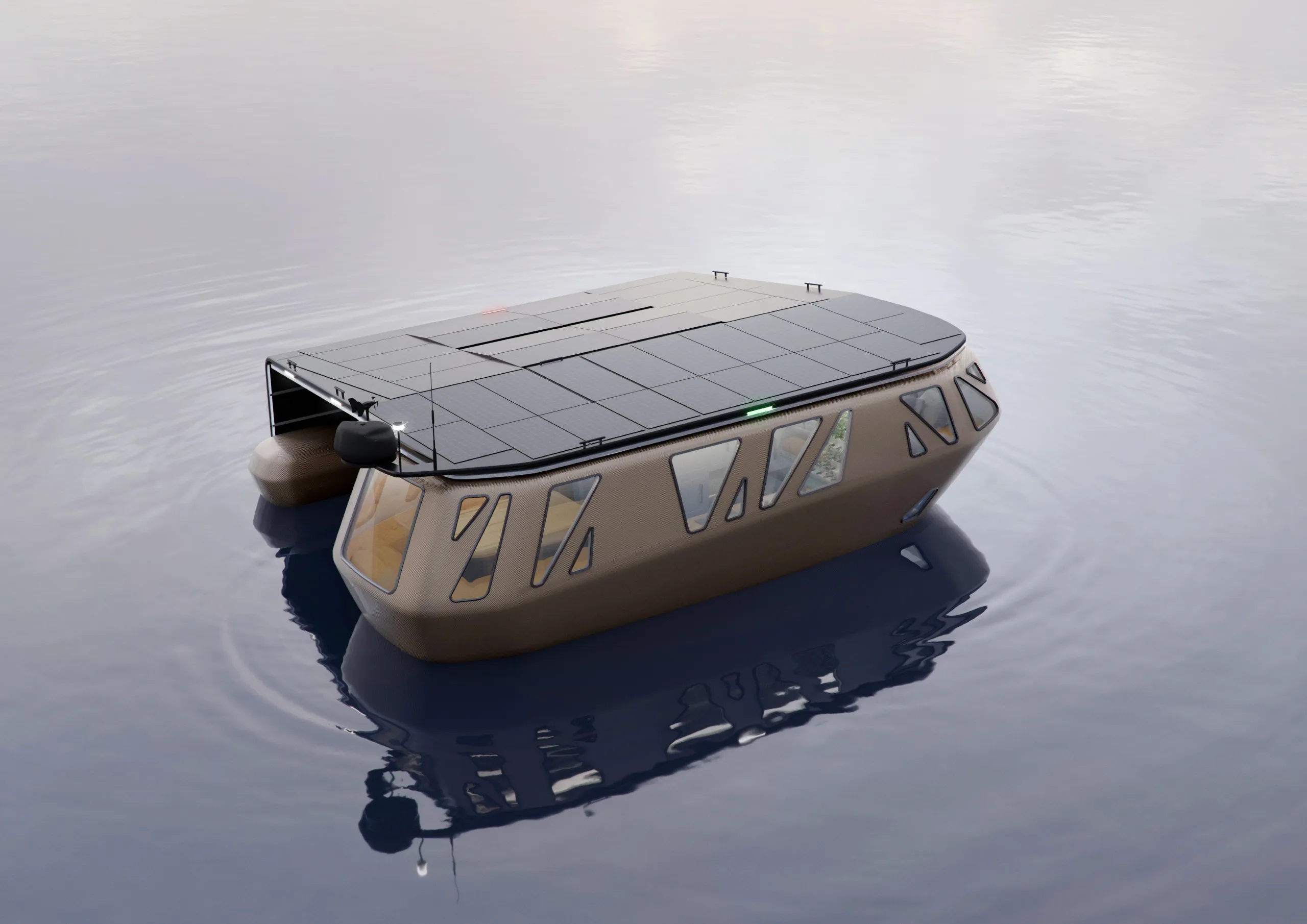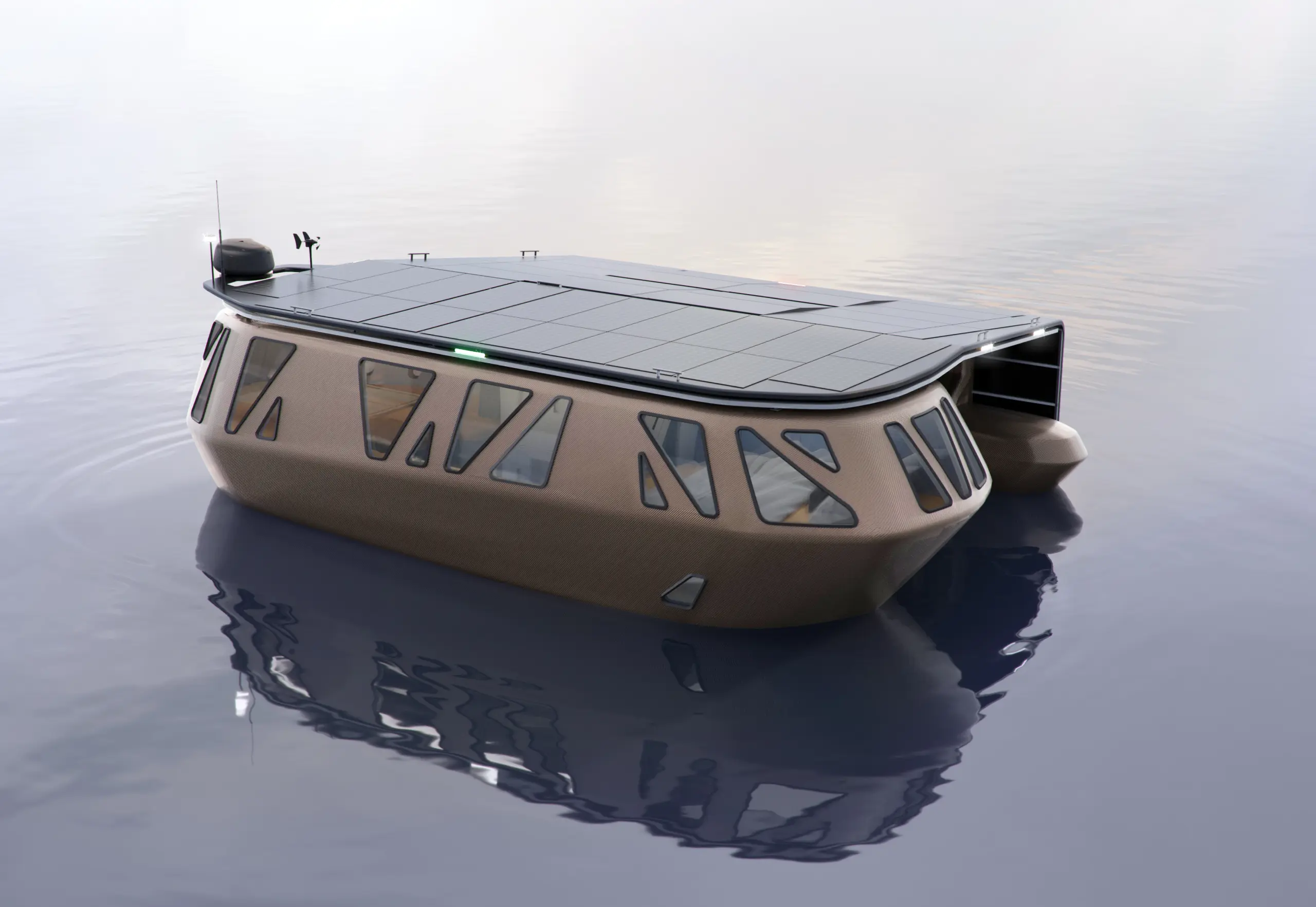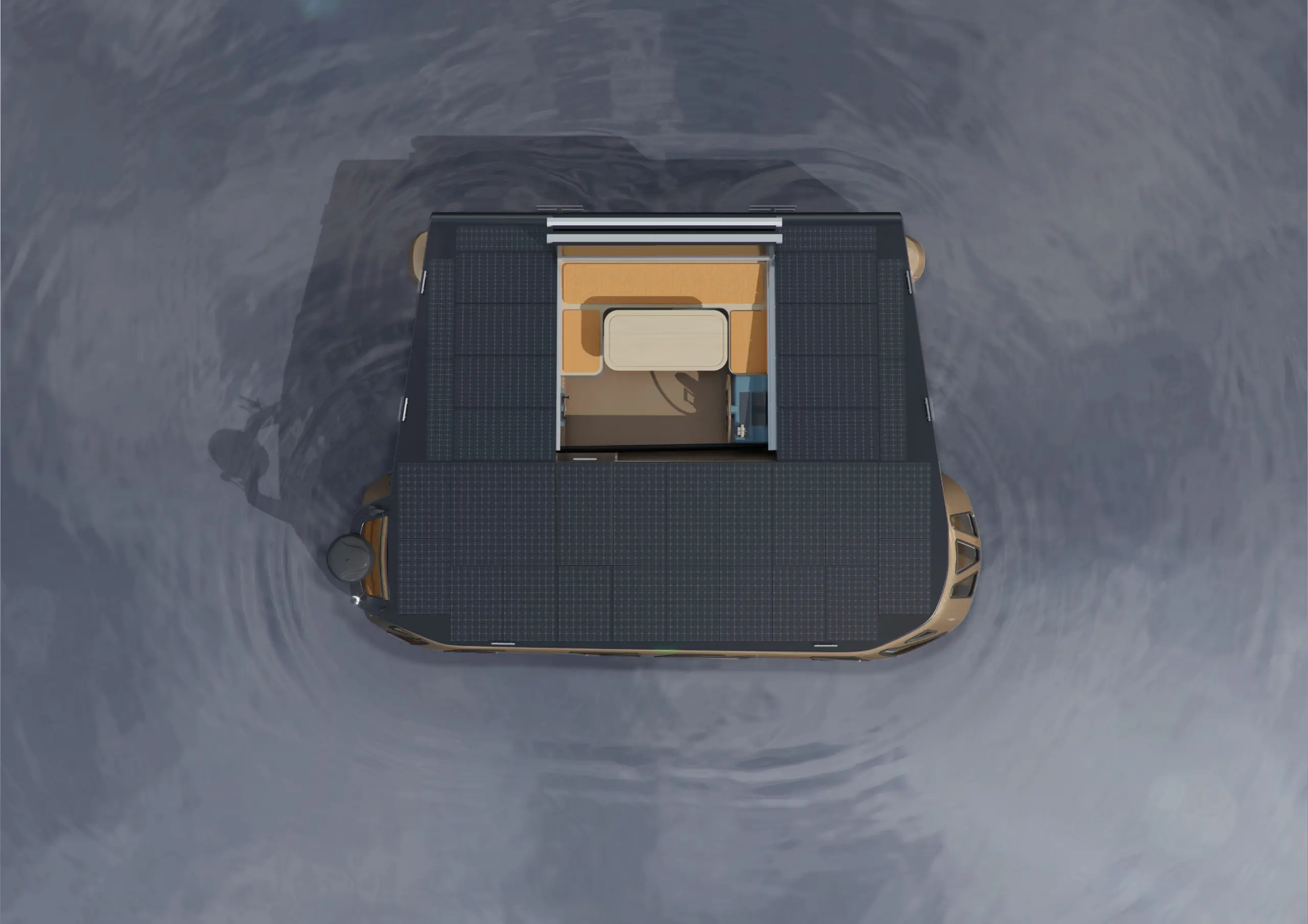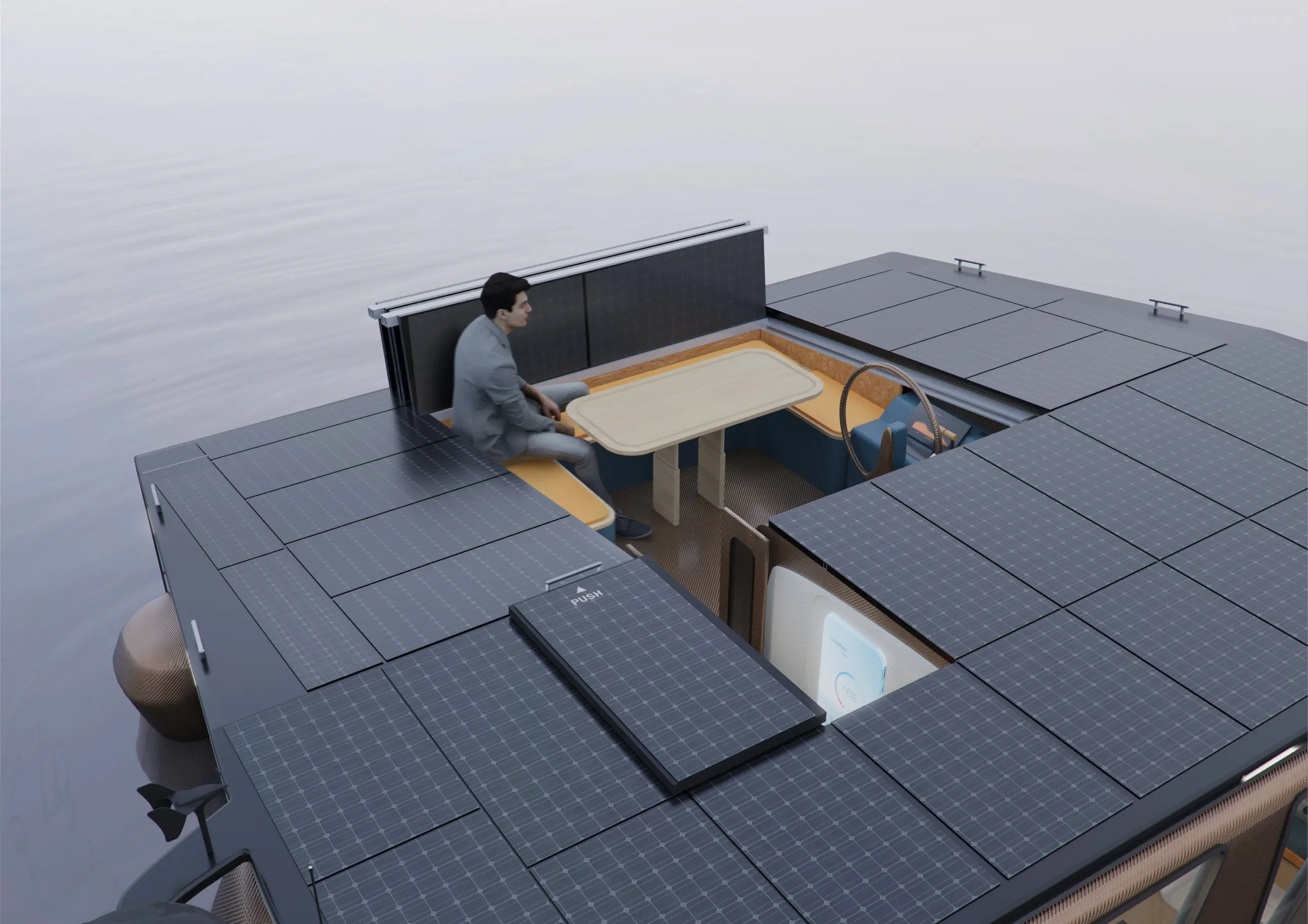 london design biennale & Monaco energy boat challenge
Blue Nomad was invited to exhibit at the London Design Biennale 2023 at Somerset House. The opening saw exhibitors from 40 countries. Subsequently, Blue Nomad was exhibited at the Yacht Club de Monaco at the Energy Boat Challenge to showcase our solar traveling vision to the boating industry.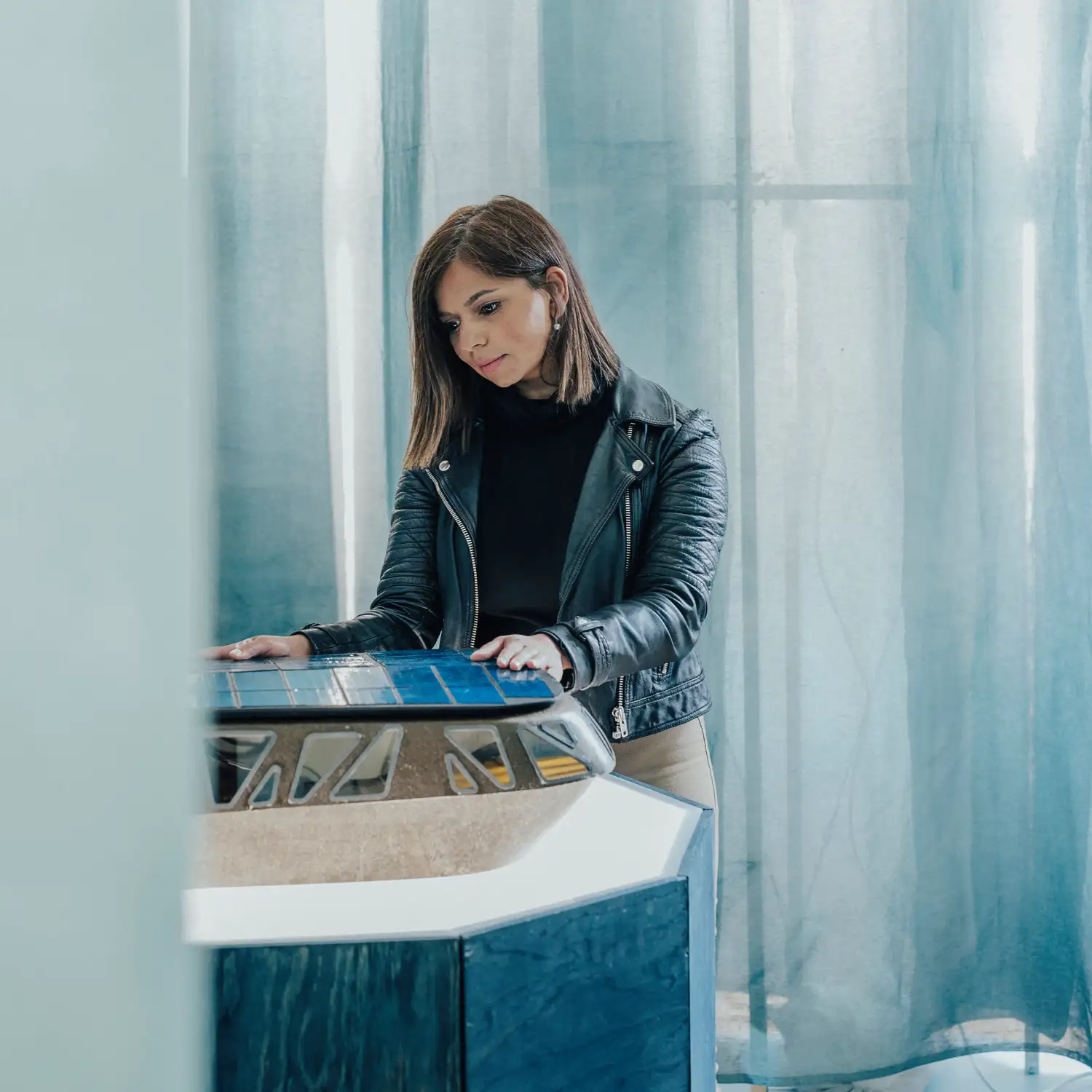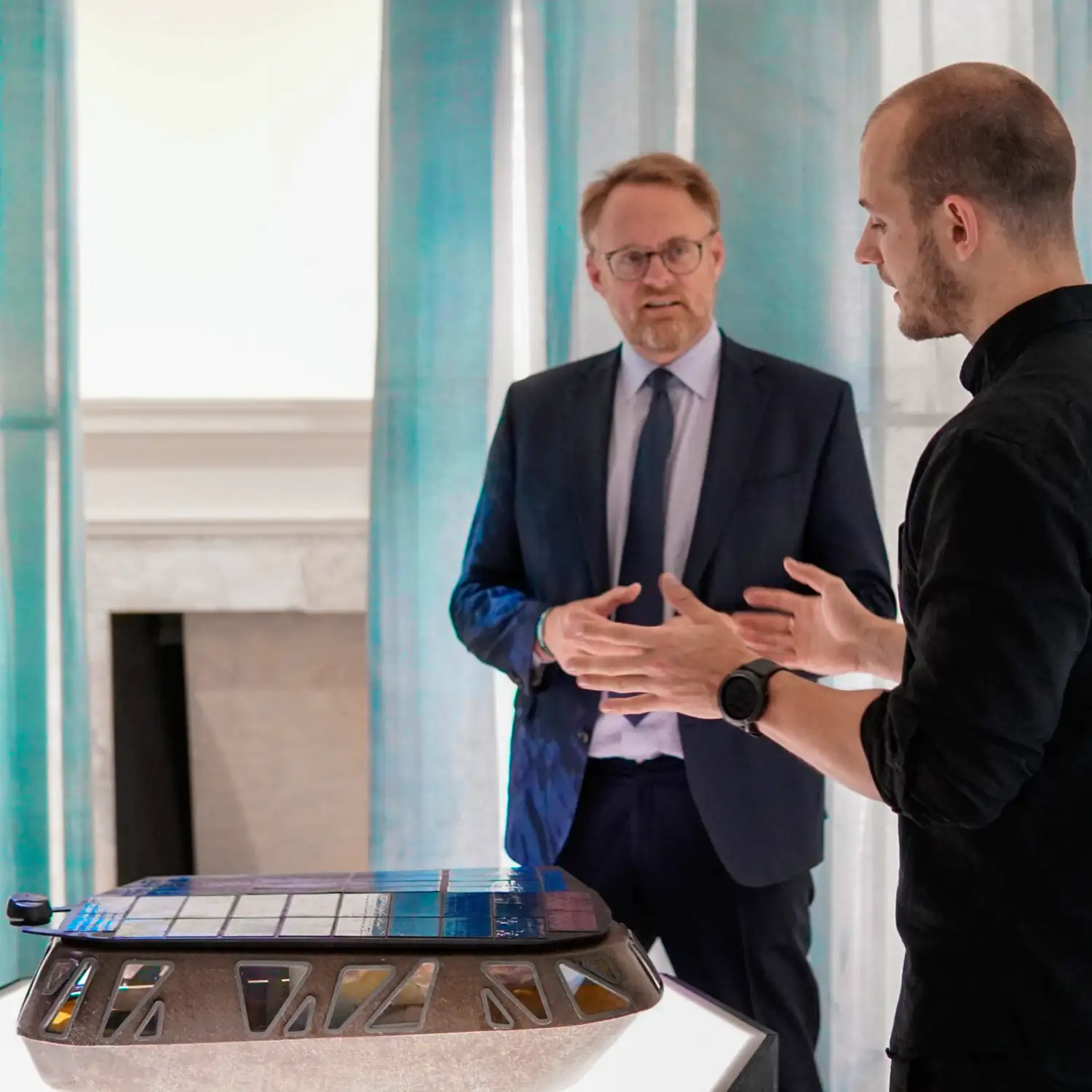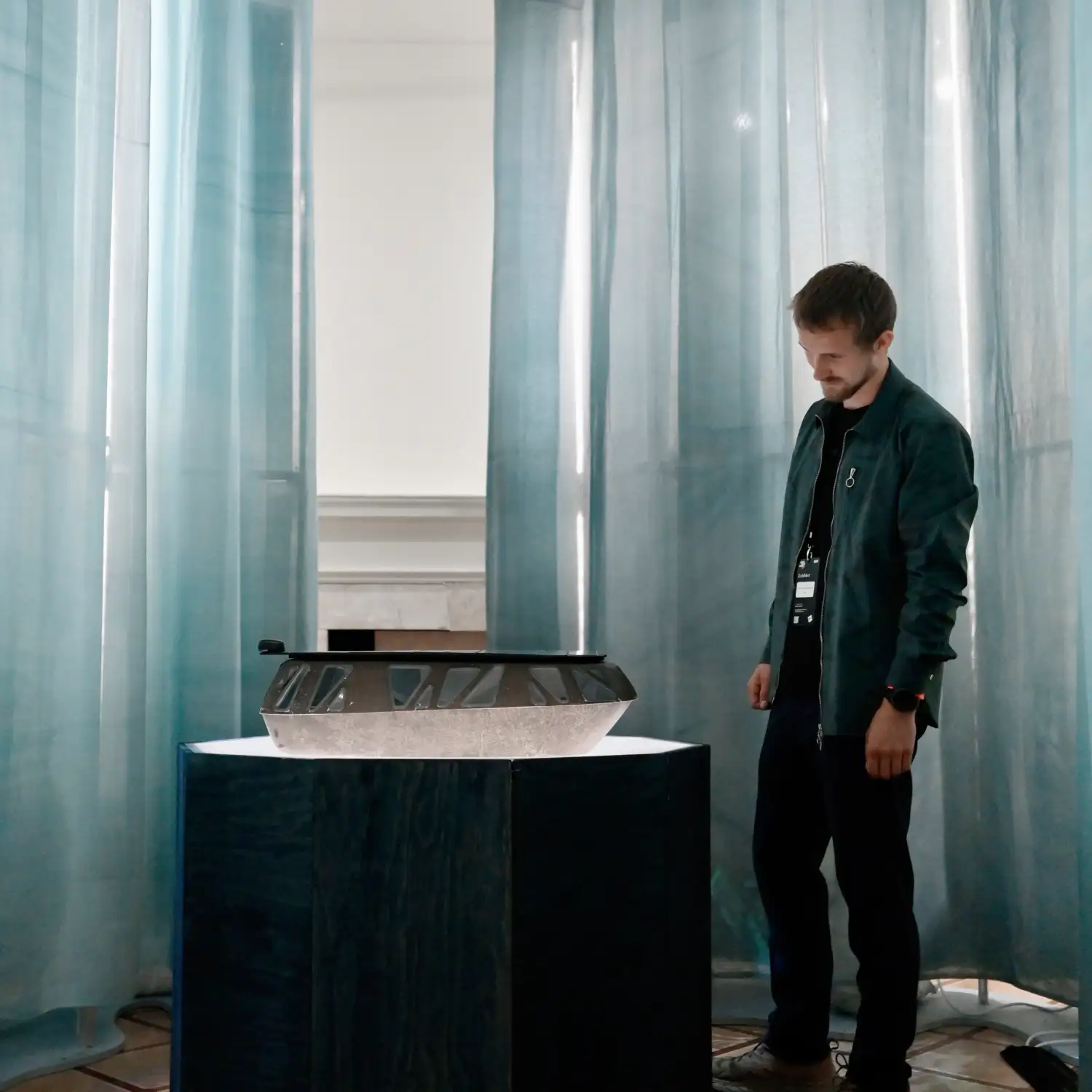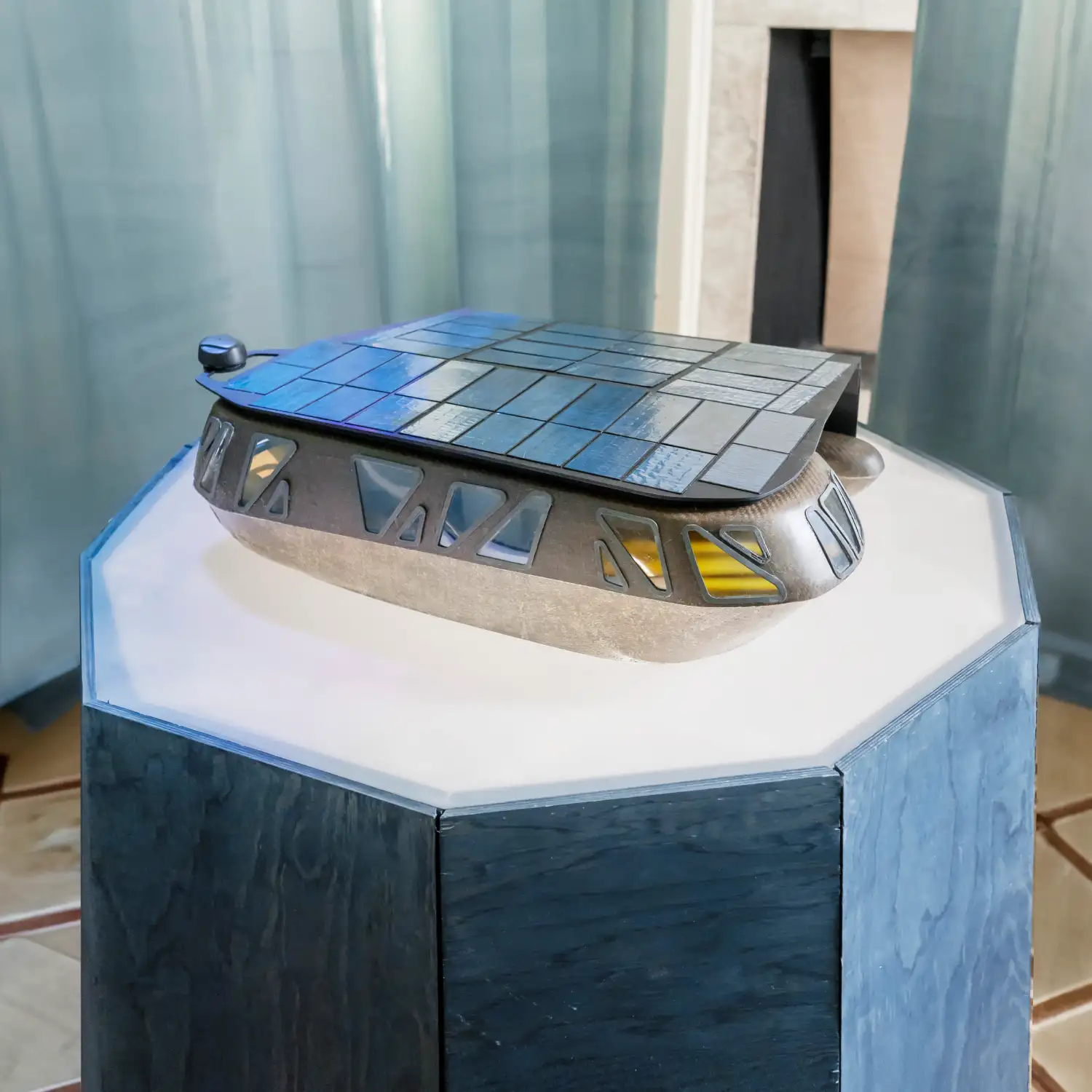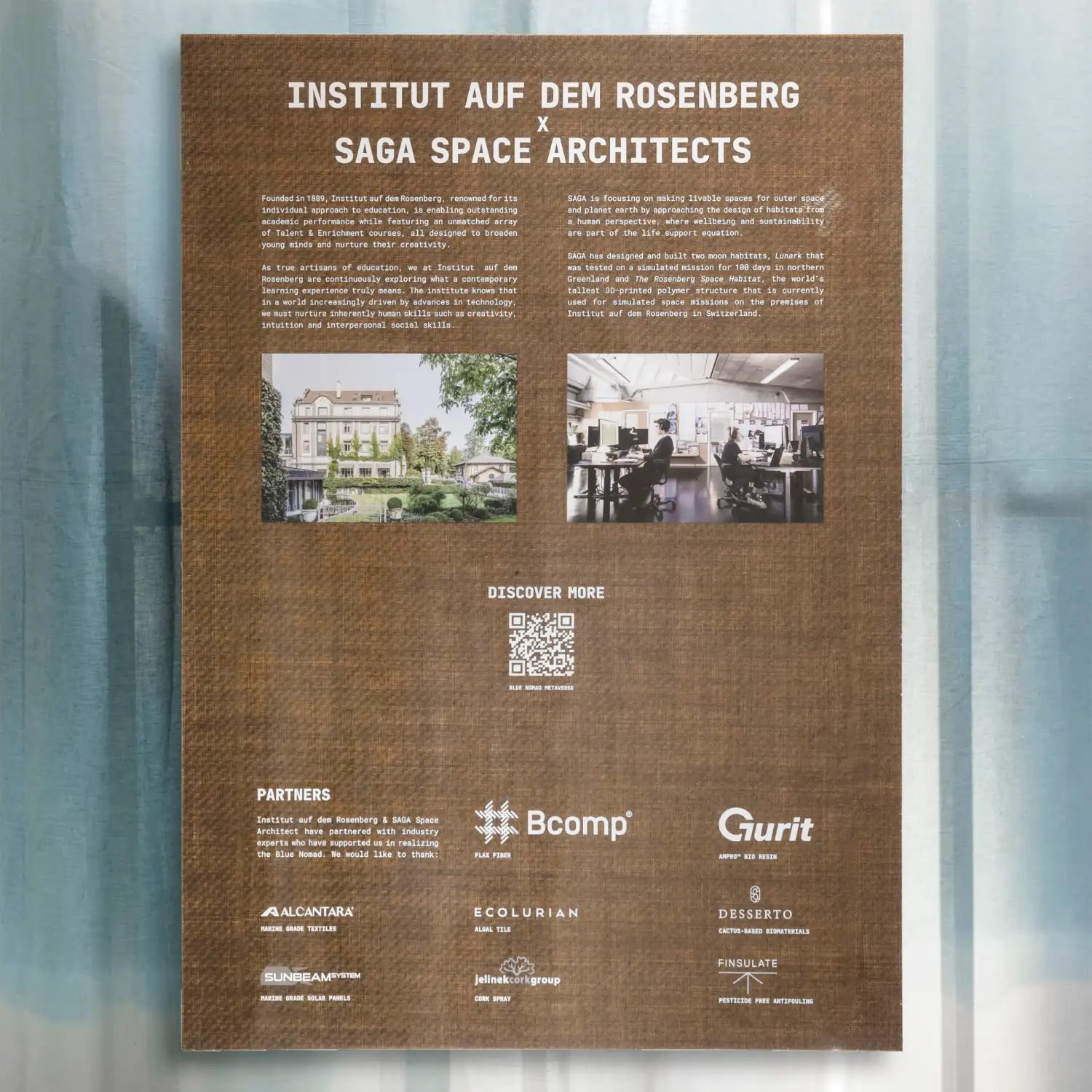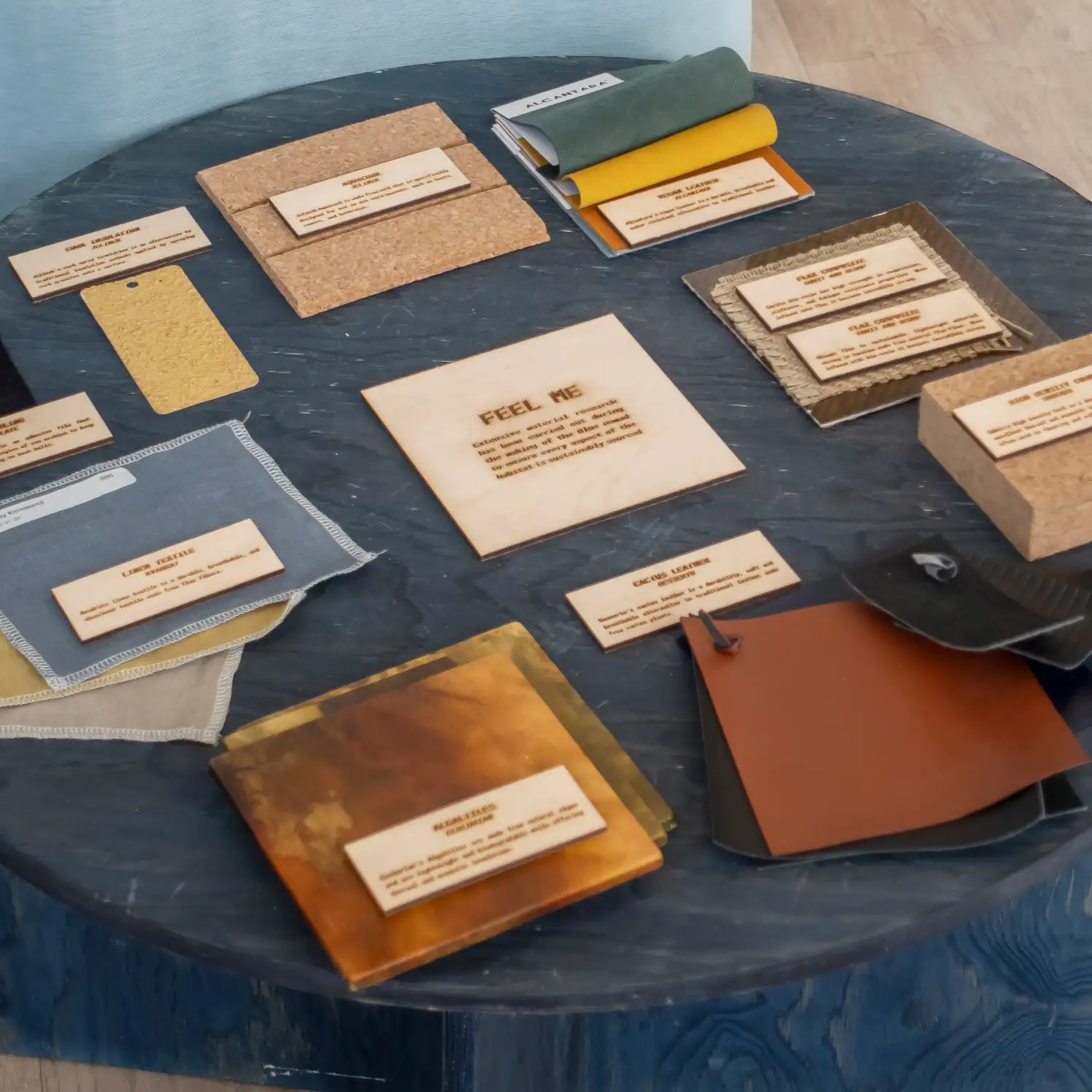 Co-created with Institut auf dem Rosenberg
During the development of Blue Nomad, our design process has been used to promote experiential learning in primary and secondary education. Students from K-12 of Institut auf dem Rosenberg, Switzerland, have engaged in multiple creative workshops to develop the design while being taught design skills.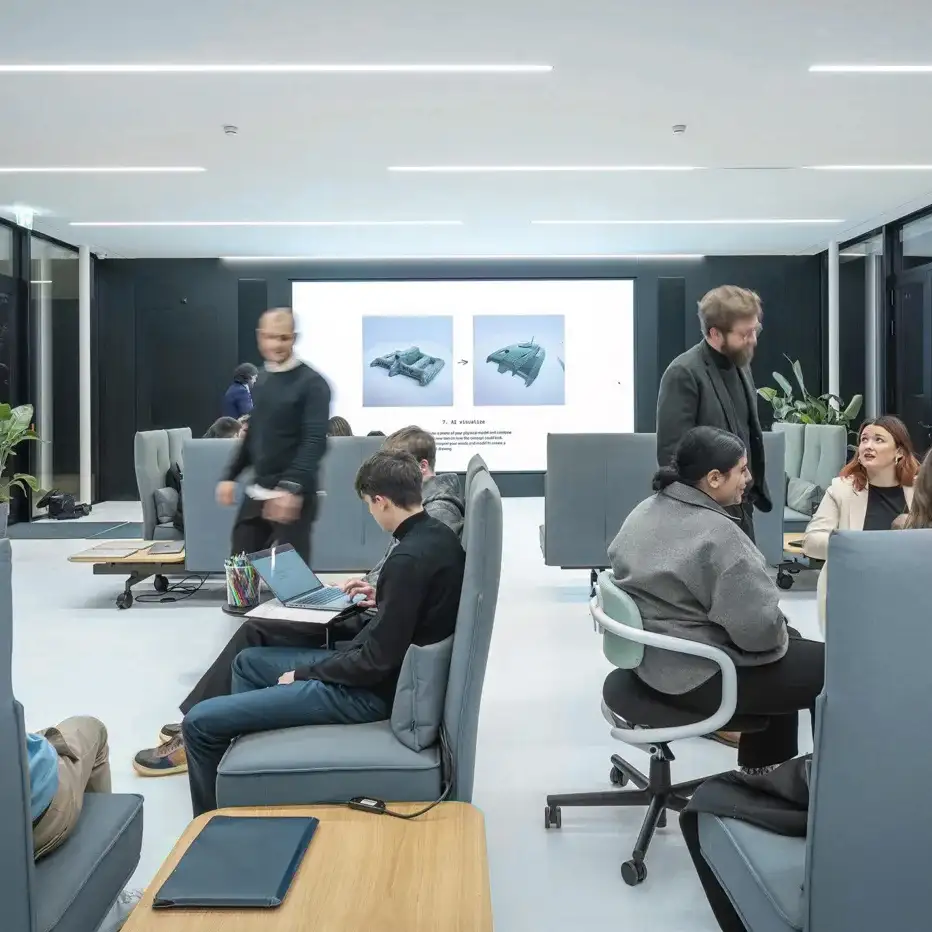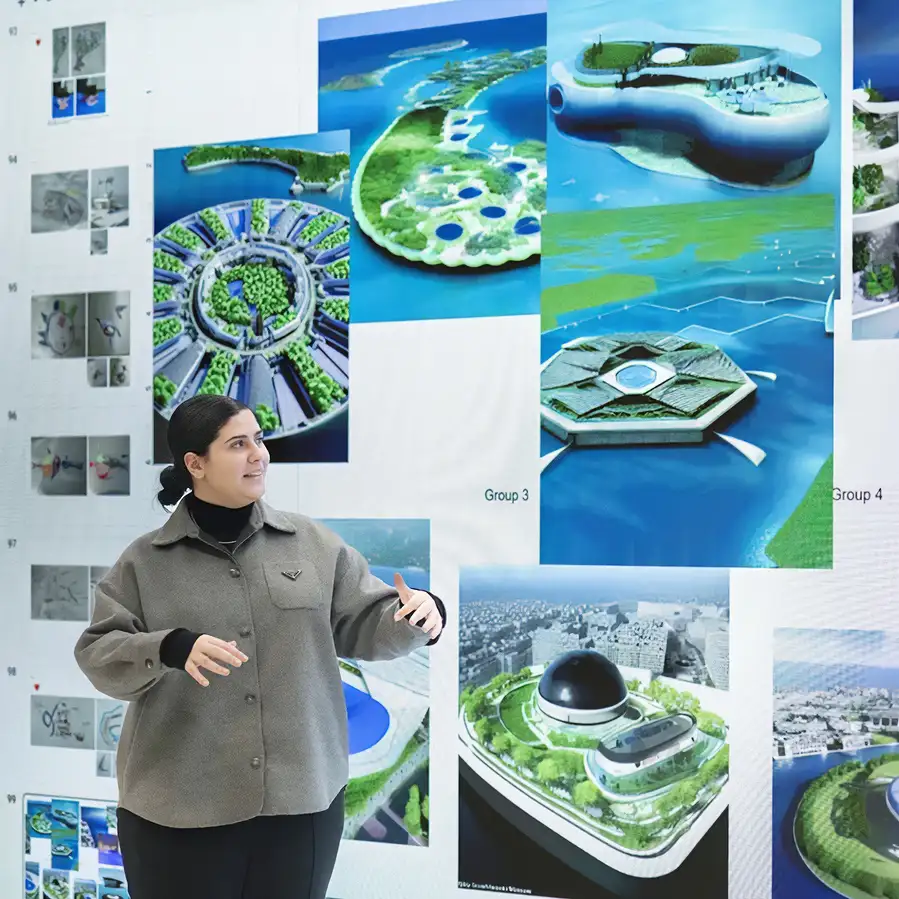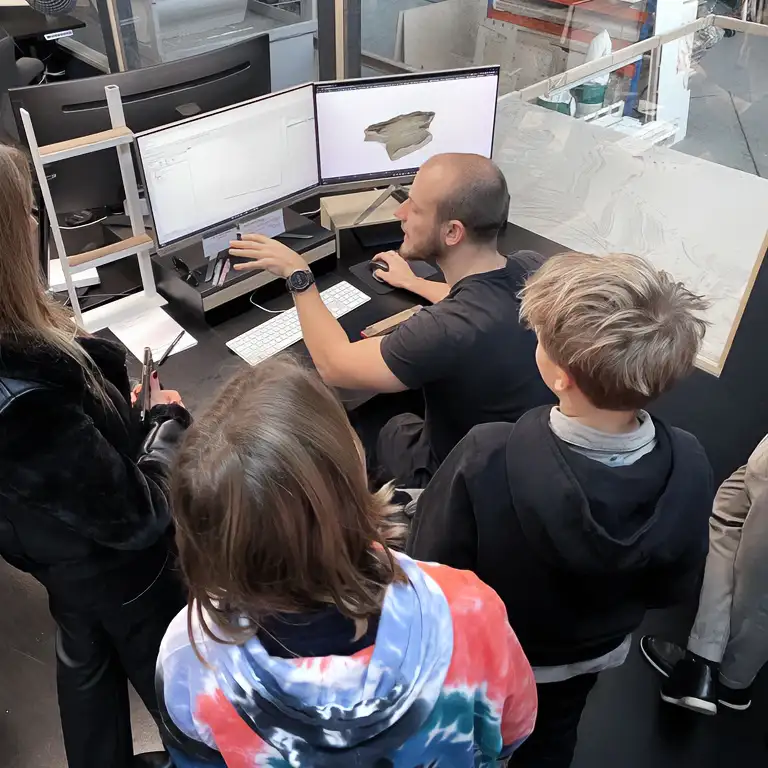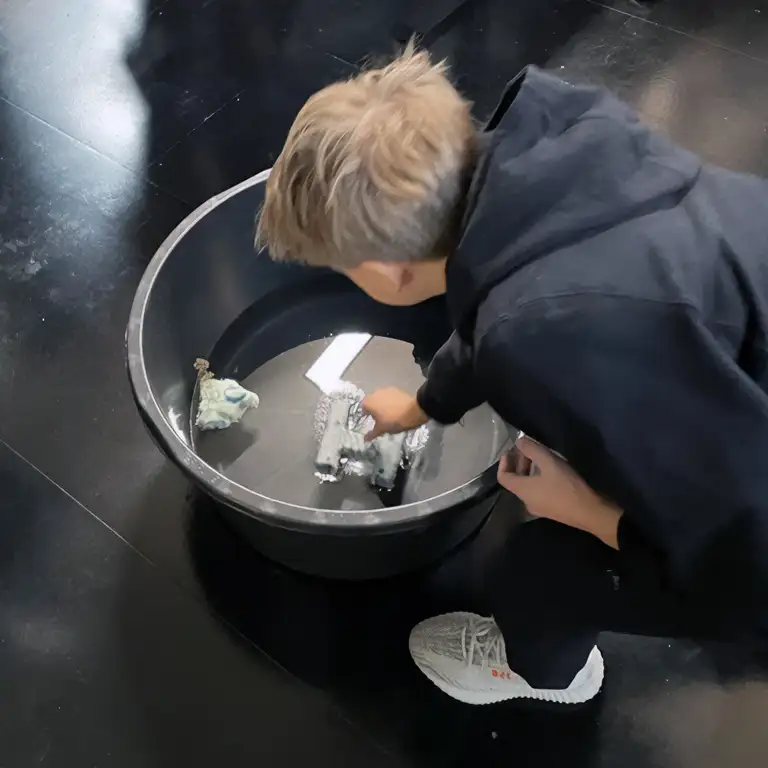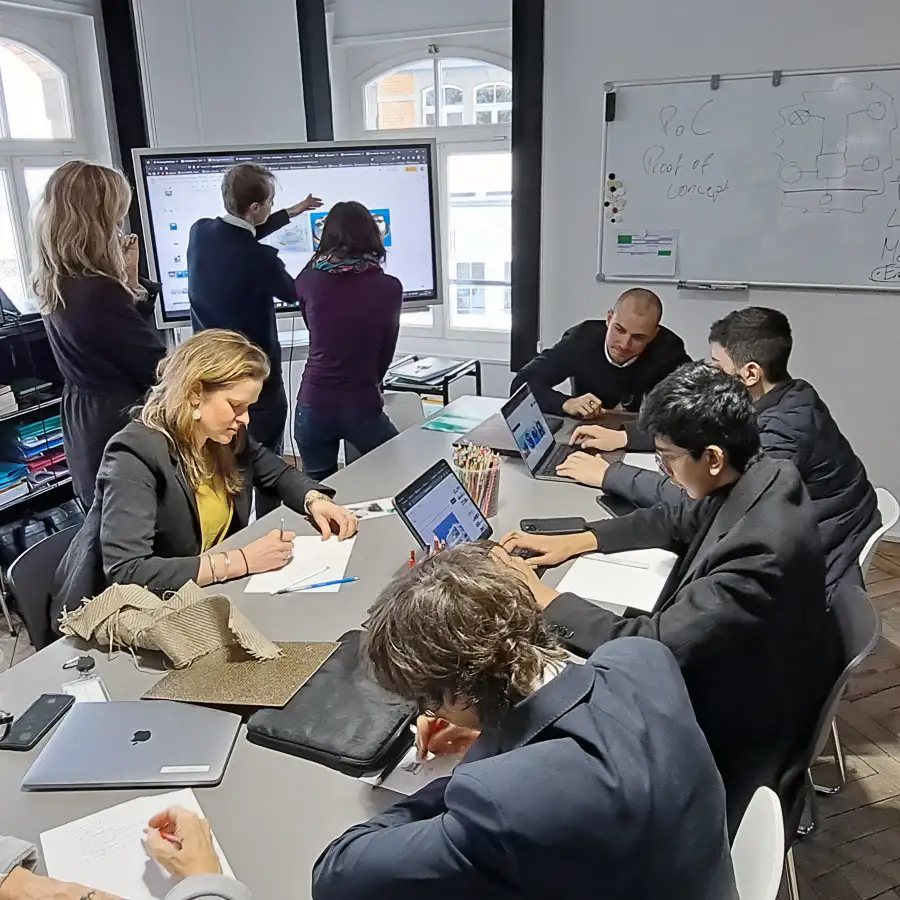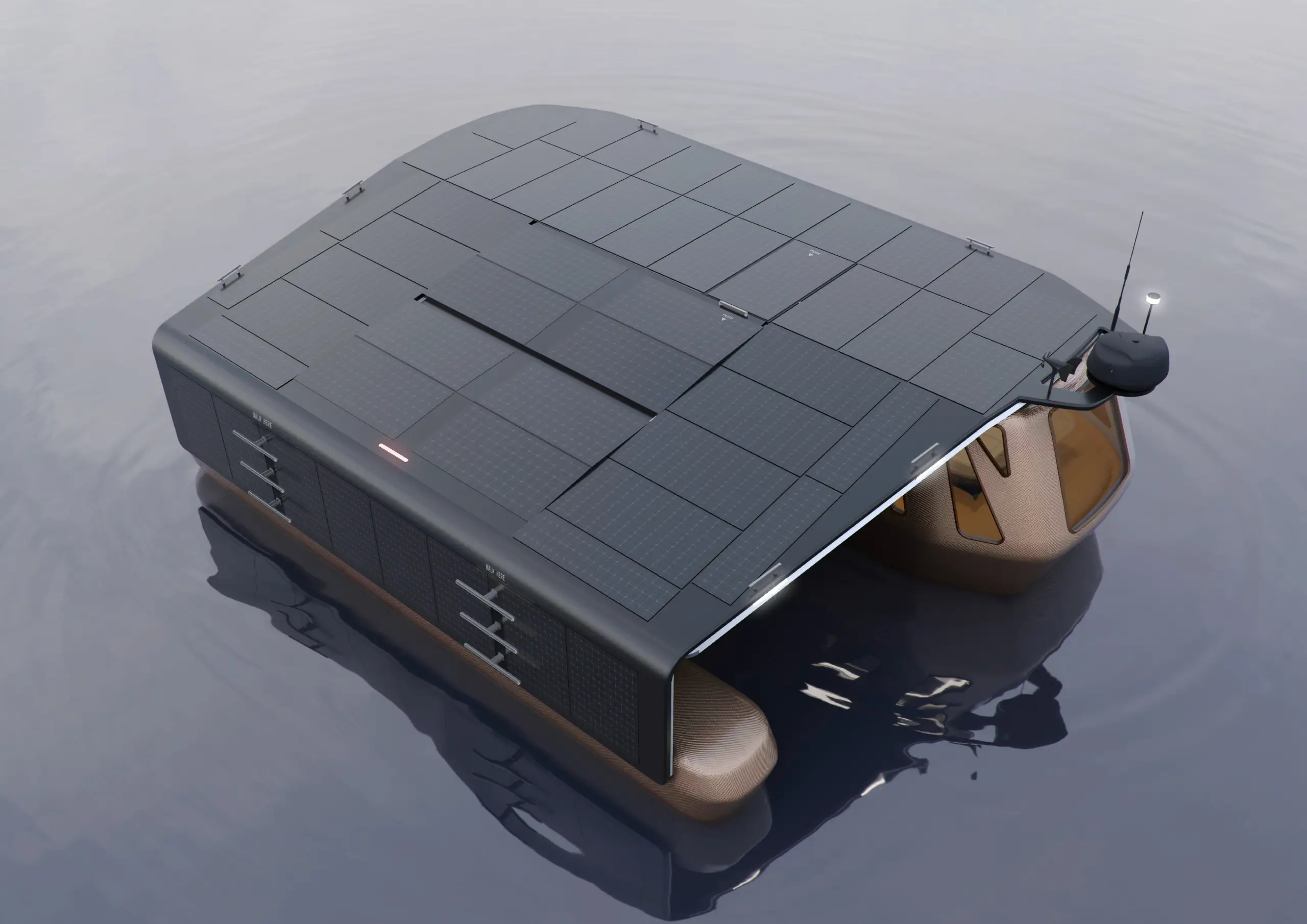 Solar Travel
Blue Nomad relies purely on solar energy for propulsion, electricity, fresh water making, and driving its electrical motor. When sailing on solar energy, Blue Nomad has a range of 500km at a cruising speed of 4 knots and can be solar recharged in 39 hours. No need to be in a hurry when Blue Nomad is your permanent home.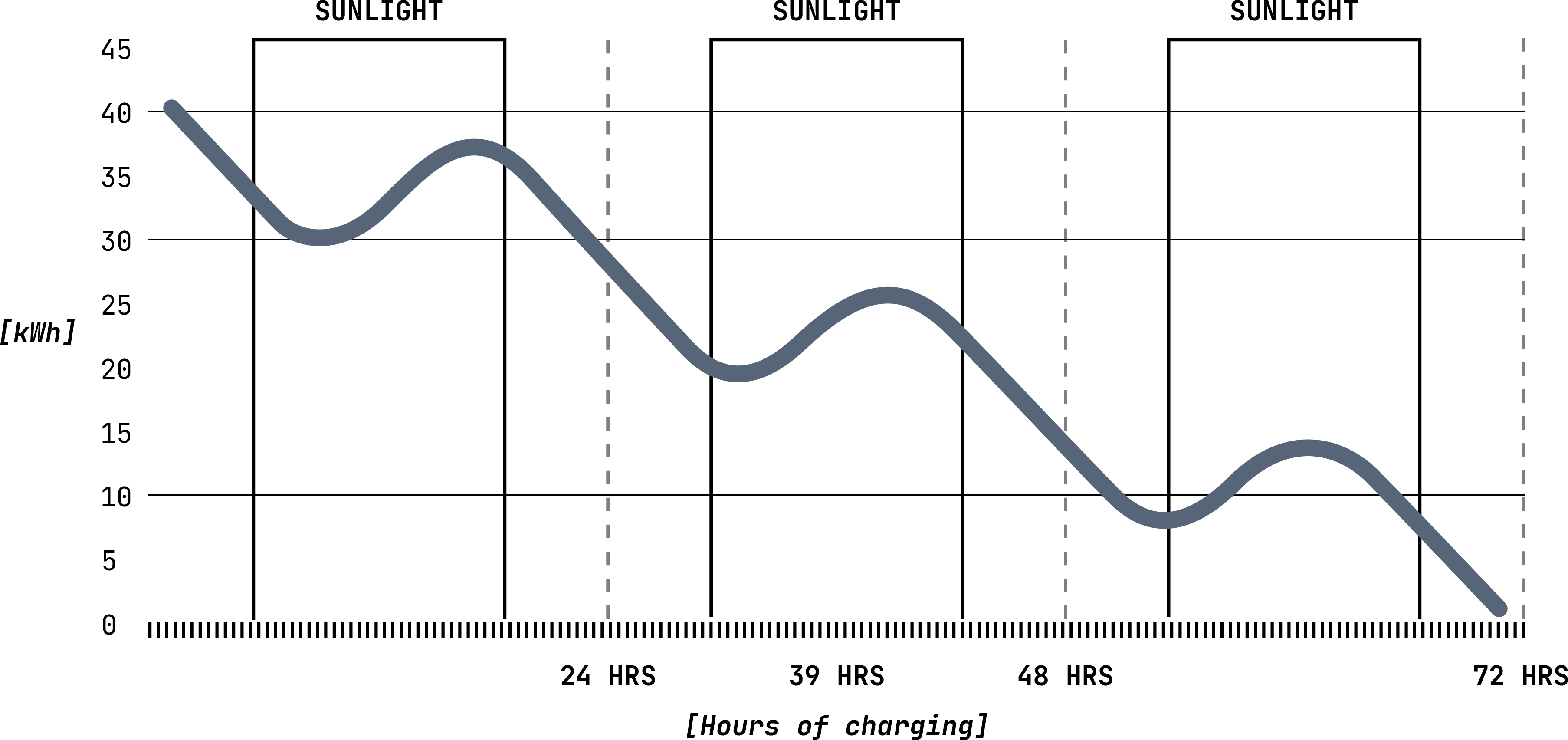 Energy budget when solar
traveling using batteries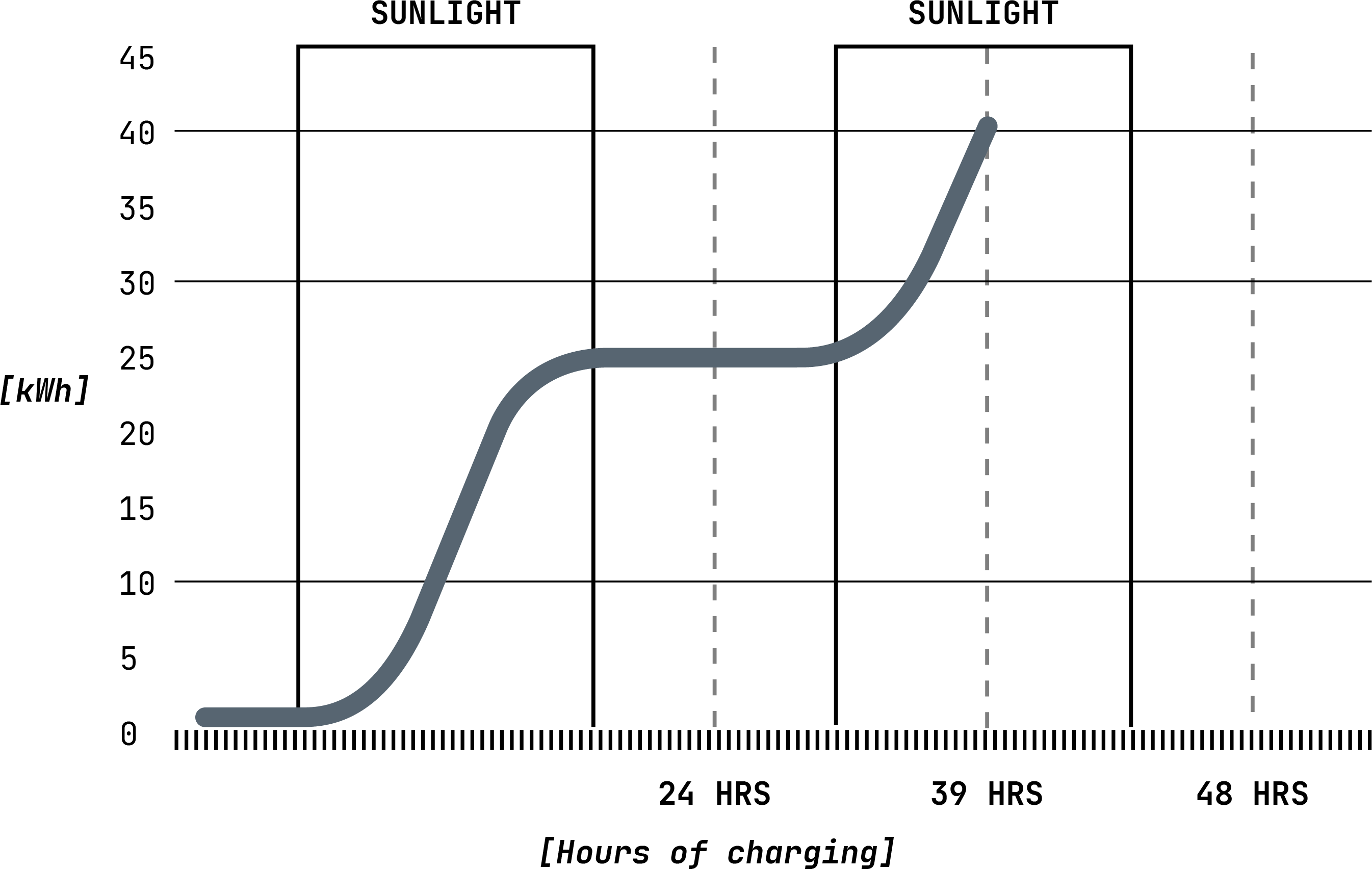 Energy budget when solar
charging the batteries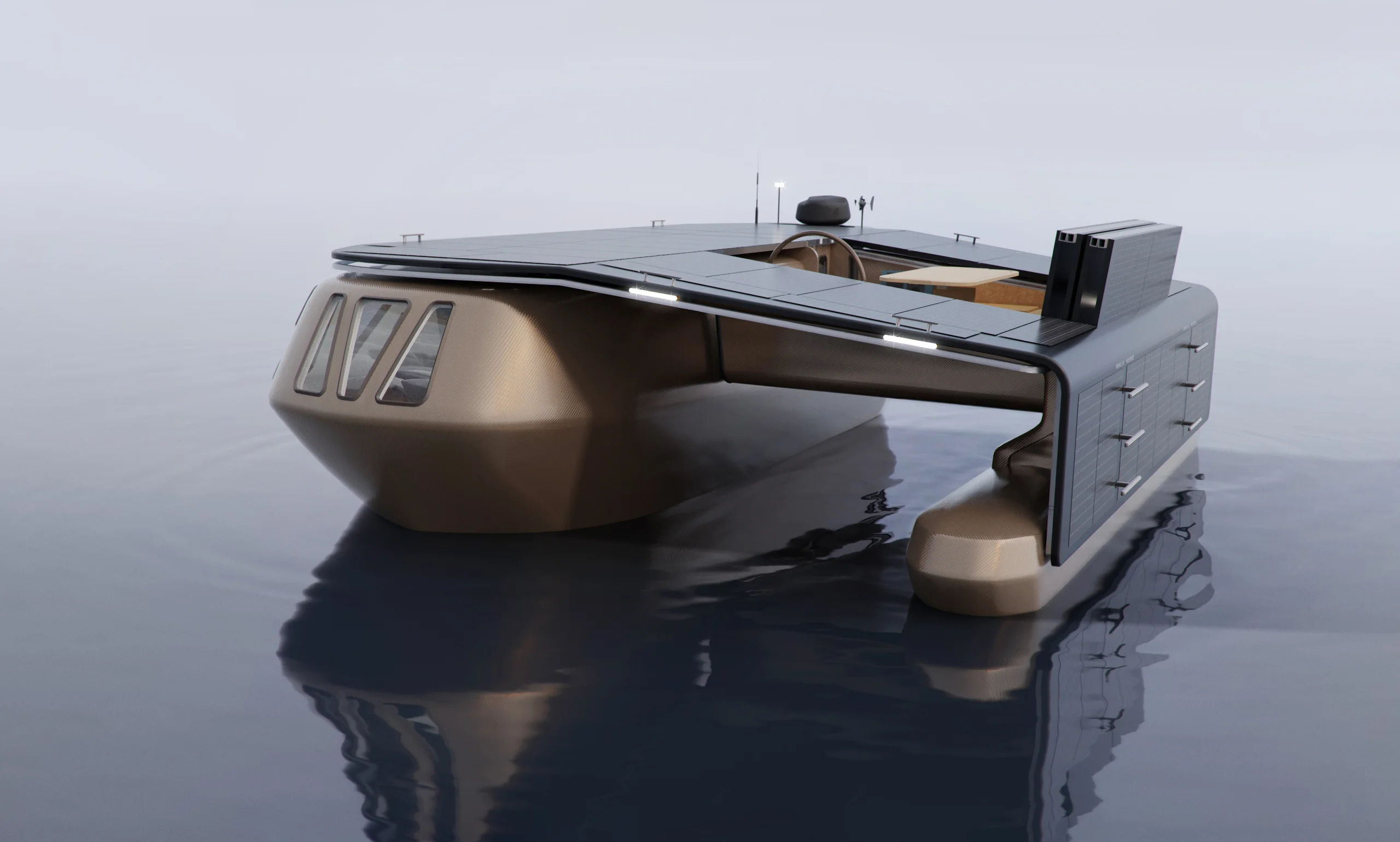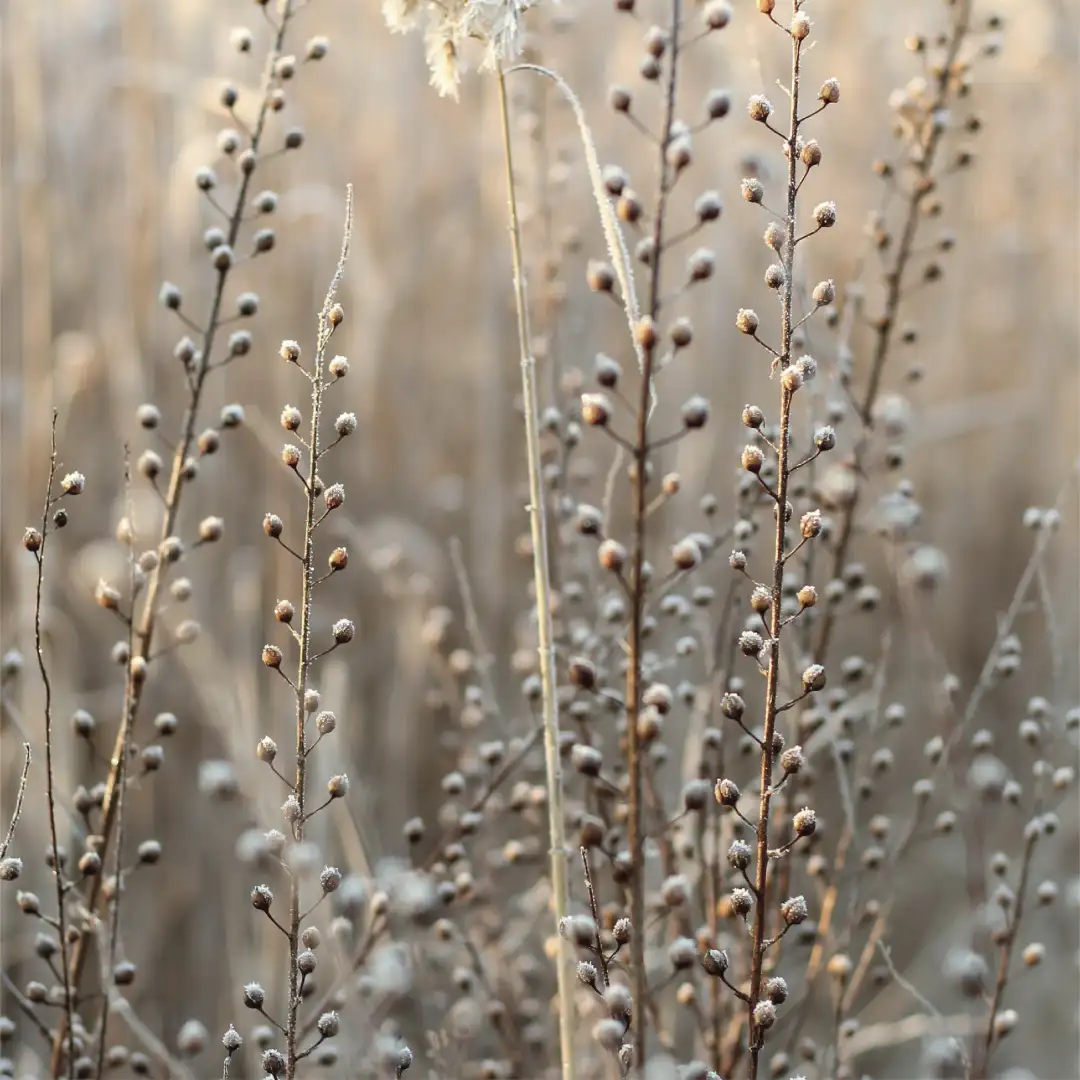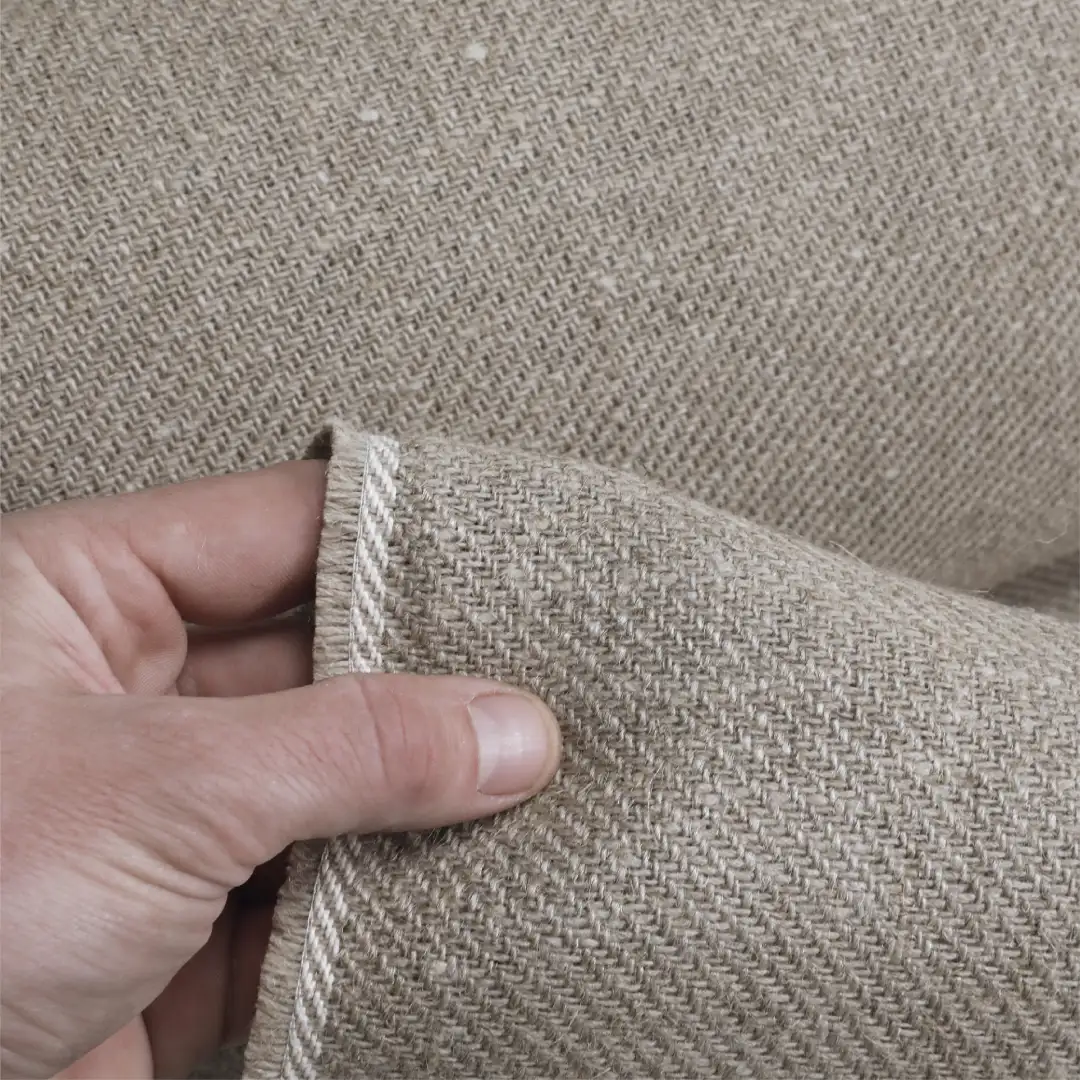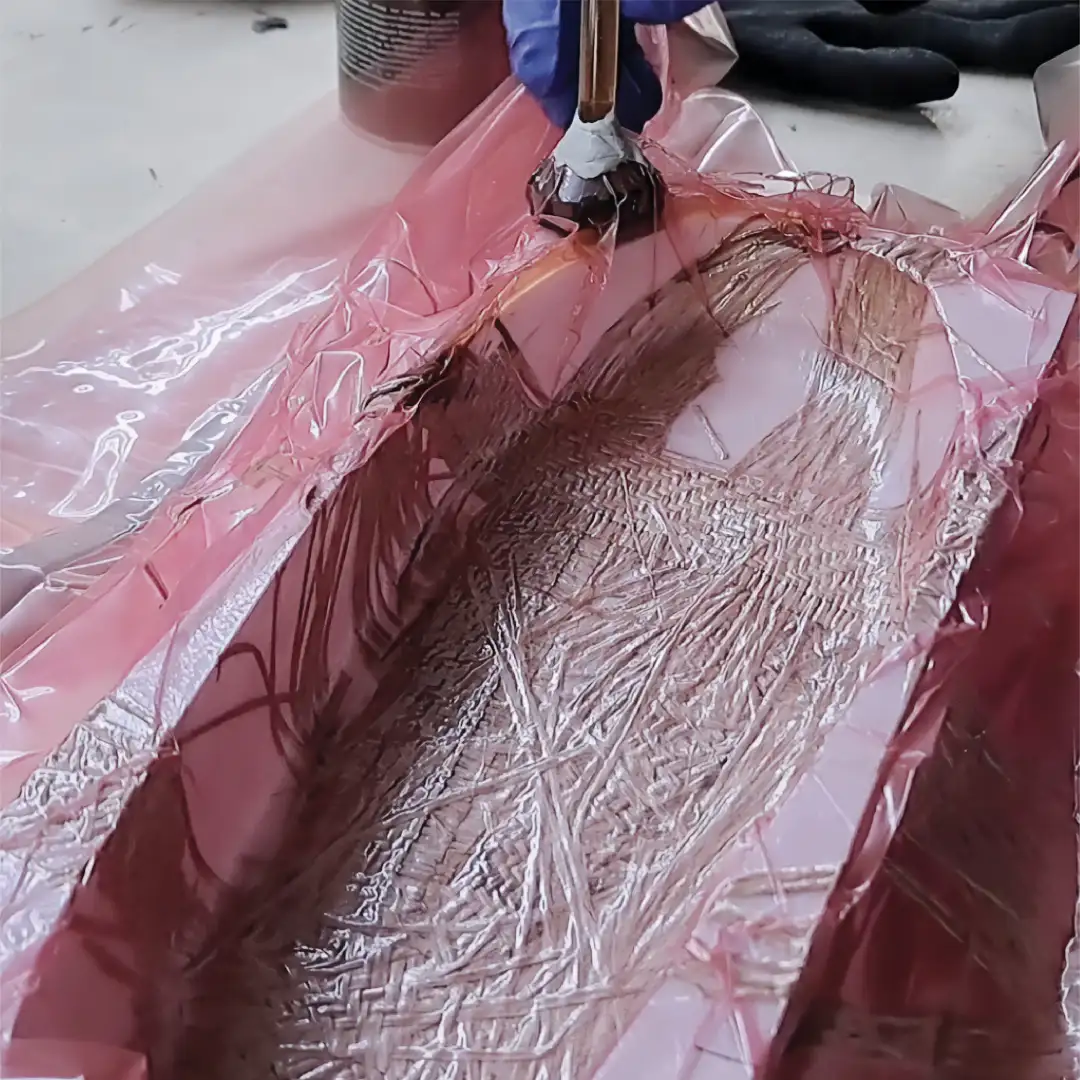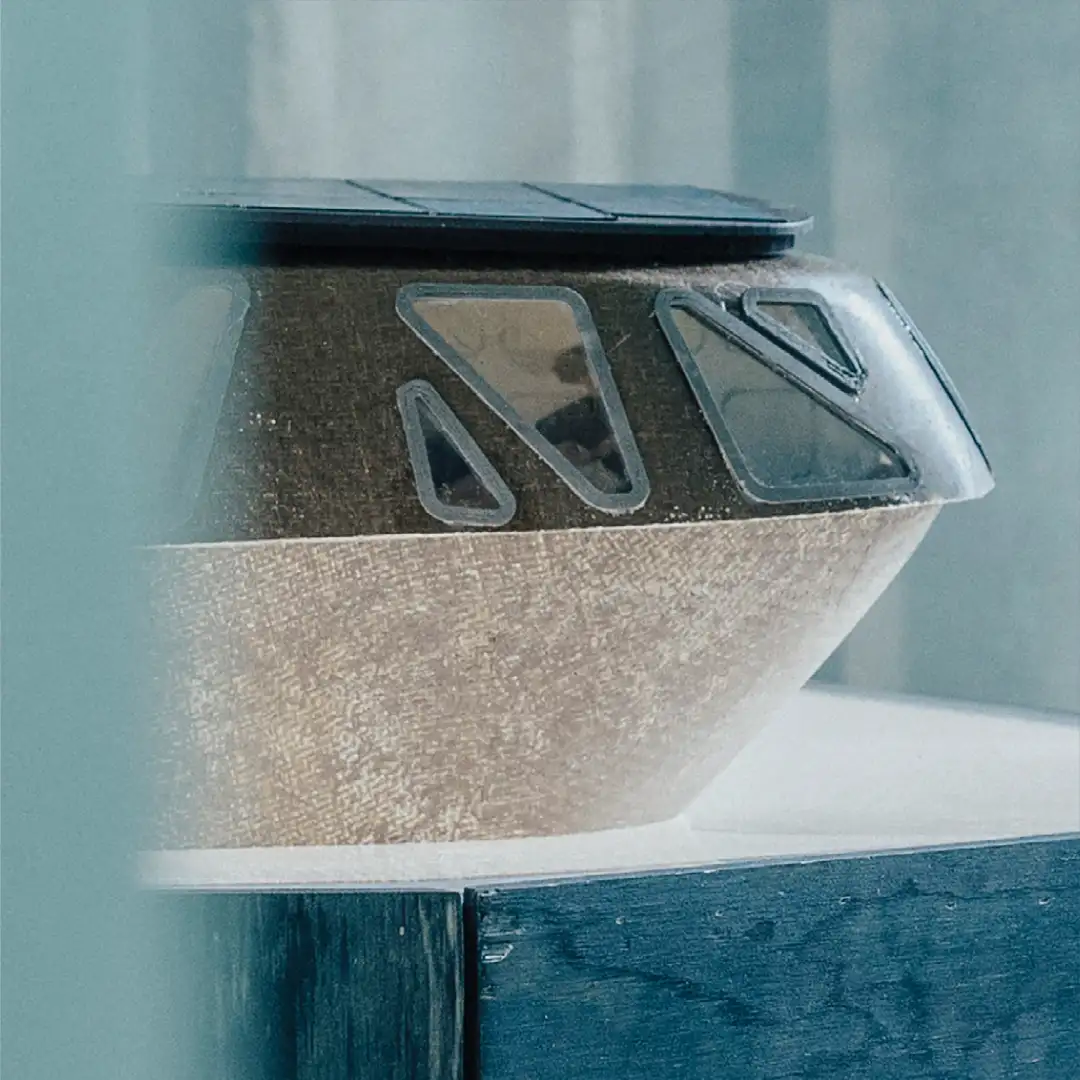 A Naturally Grown Habitat
Blue Nomad is primarily constructed in flax fibers, showcasing a future of organic and regenerative materials. Flax is a naturally grown crop that can be spun into fibers for use in composite manufacturing. Imagine, growing your own habitat! To build with flax, the fiber is placed in a two-part mold and infused with bio-resin under a vacuum.

To realize Blue Nomad, we have partnered with Bcomp and Gurit, two leading producer of flax fiber and bio-resin.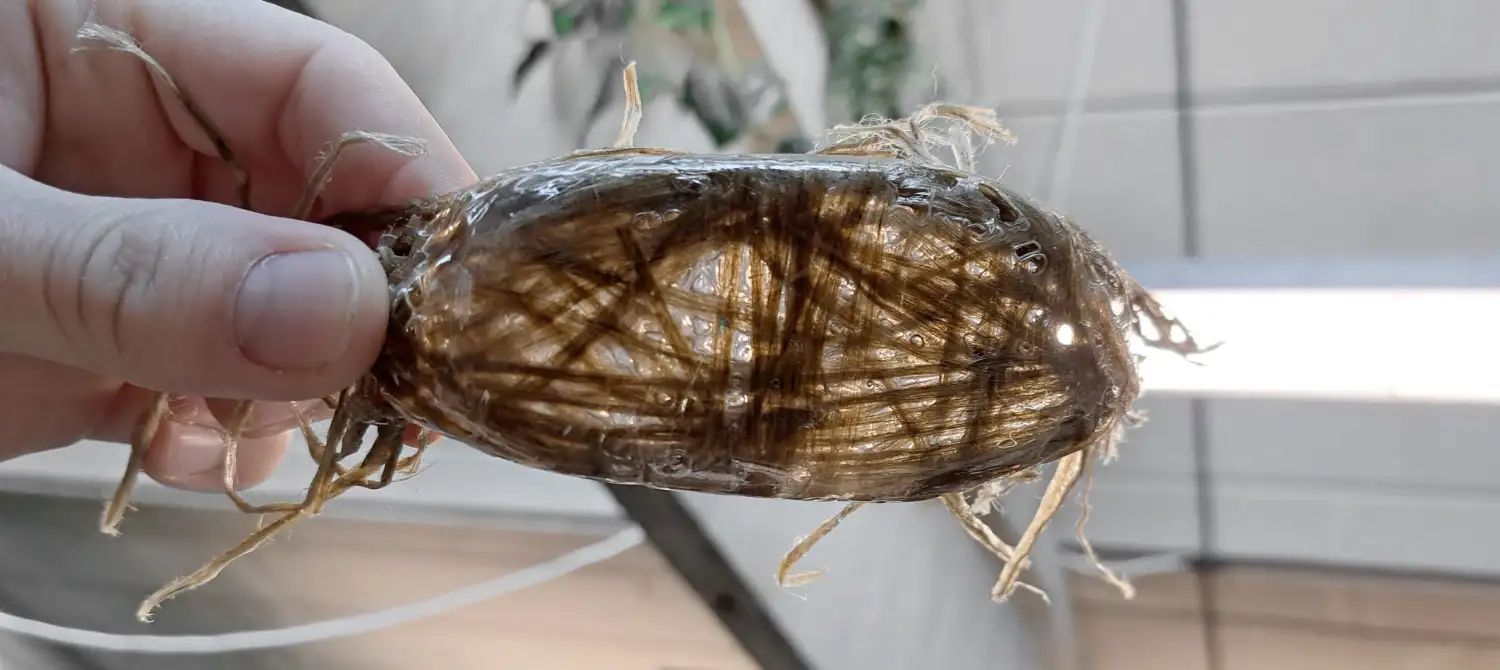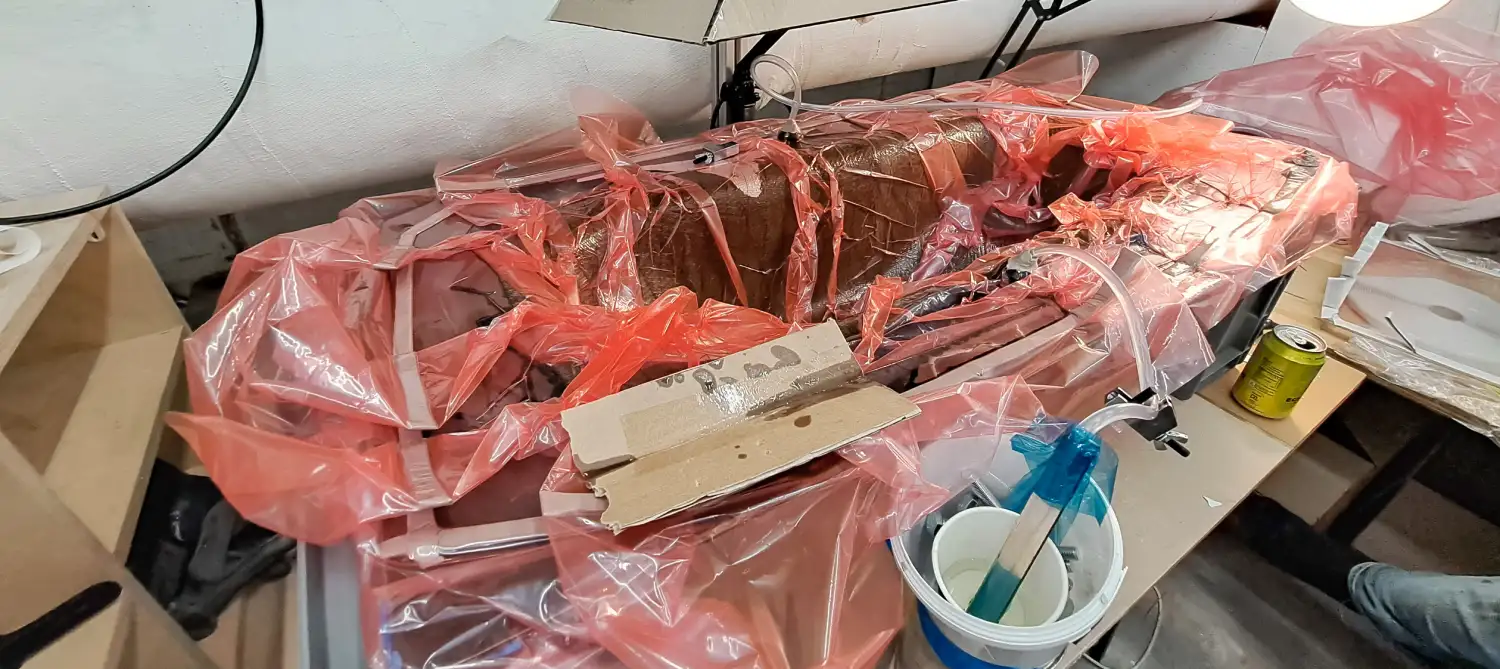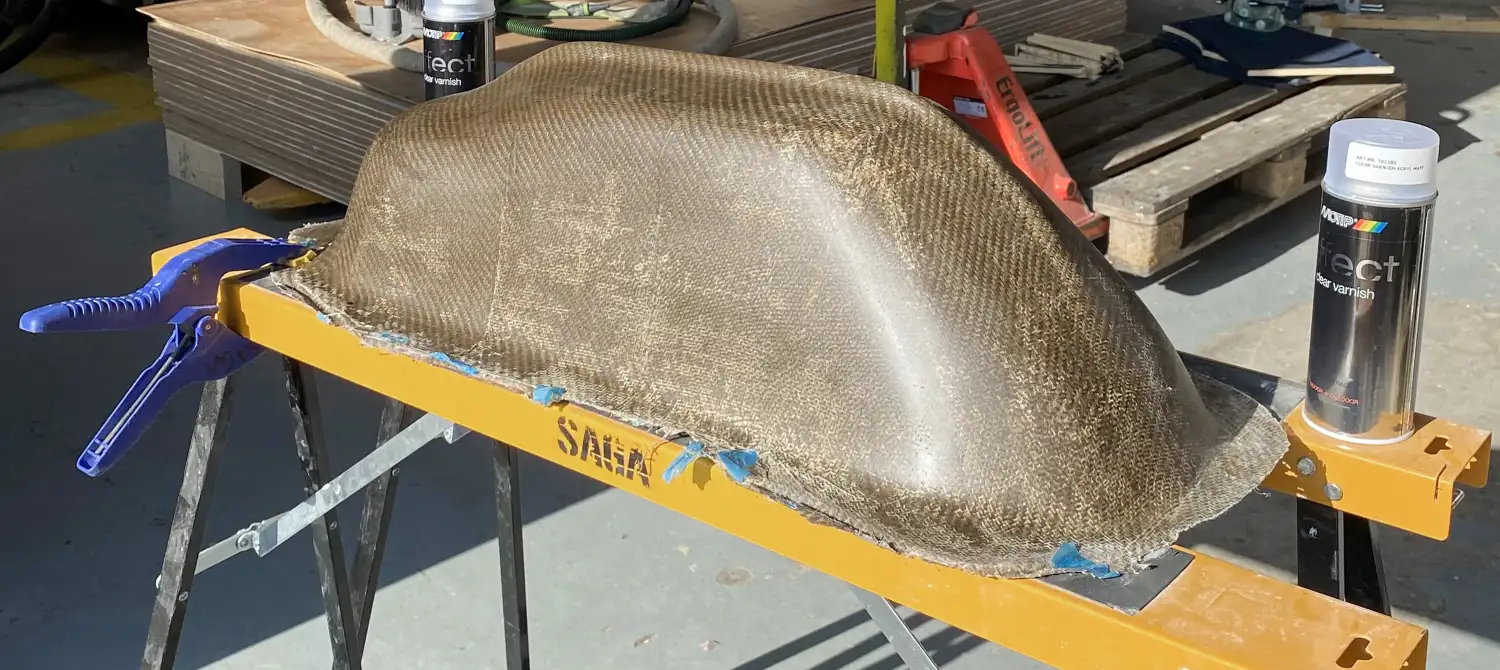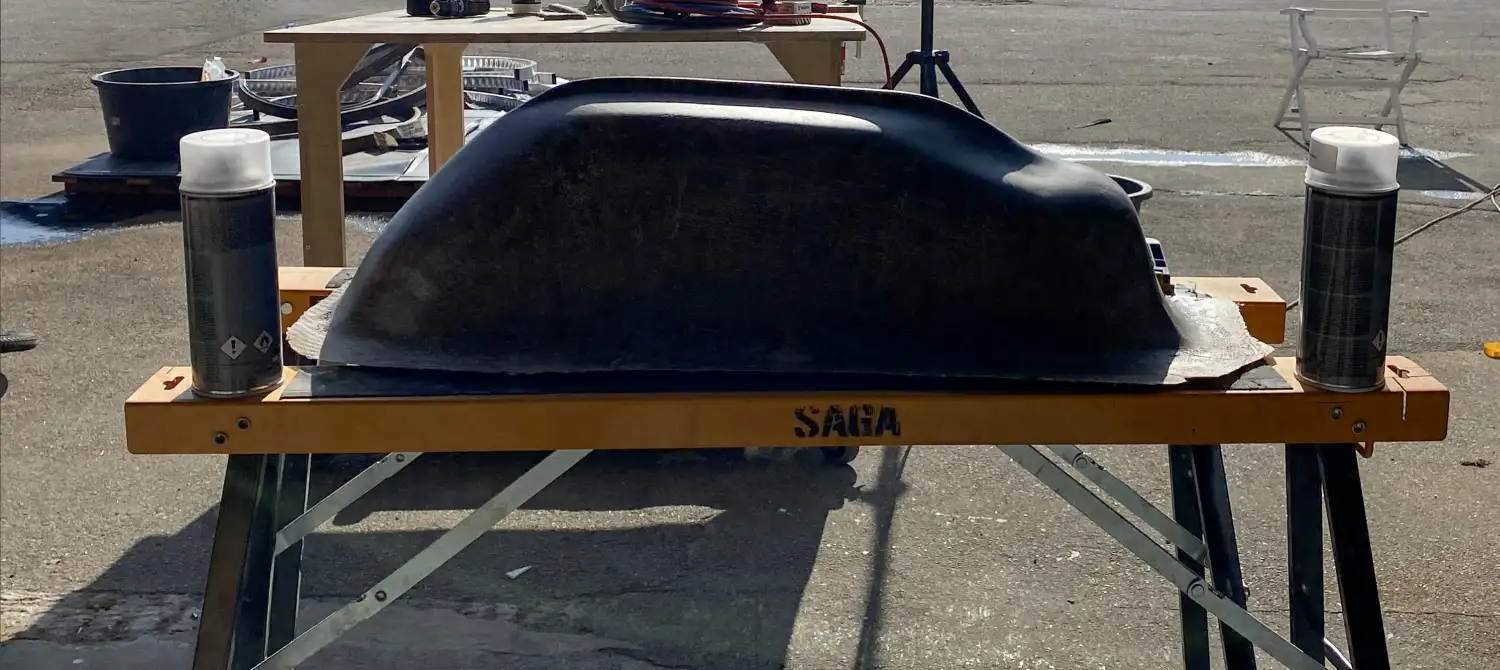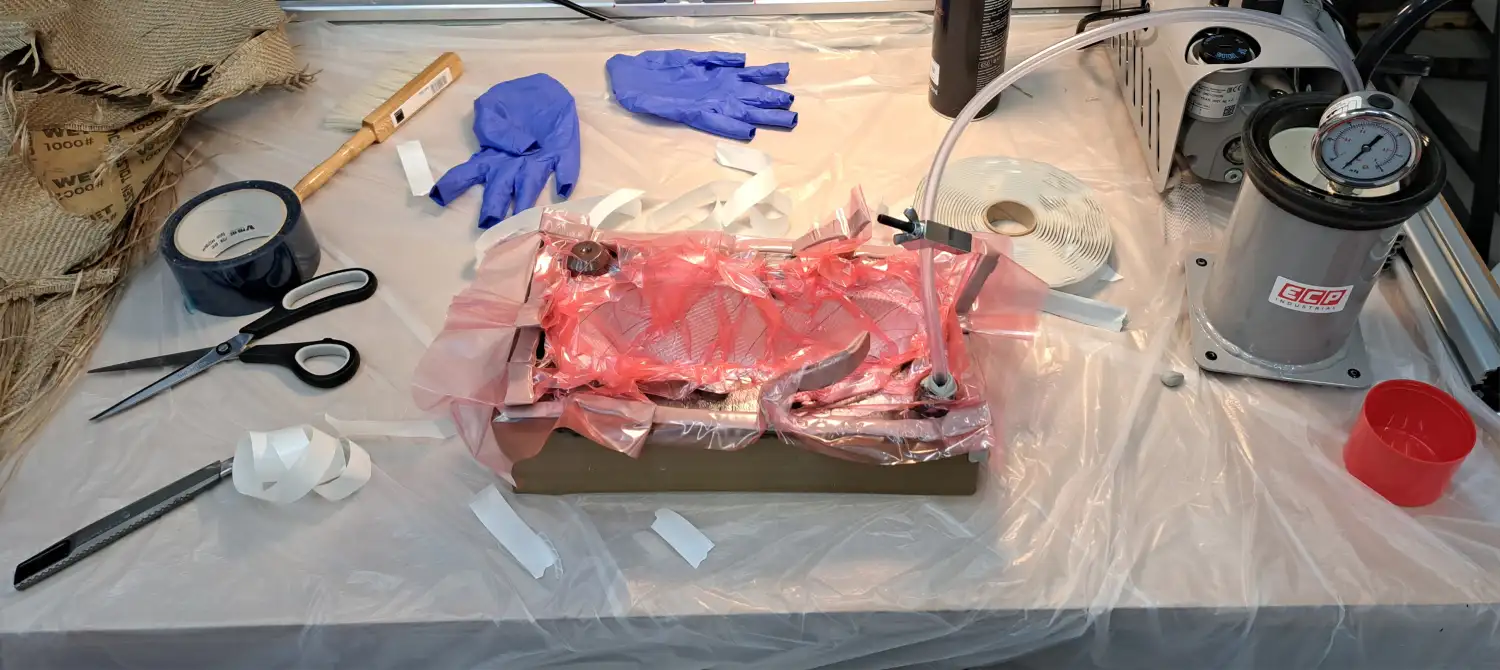 Flax is a regenerative, organic, and carbon absorbing fiber compared to basalt fiber and carbon fiber.
Source: Bcomp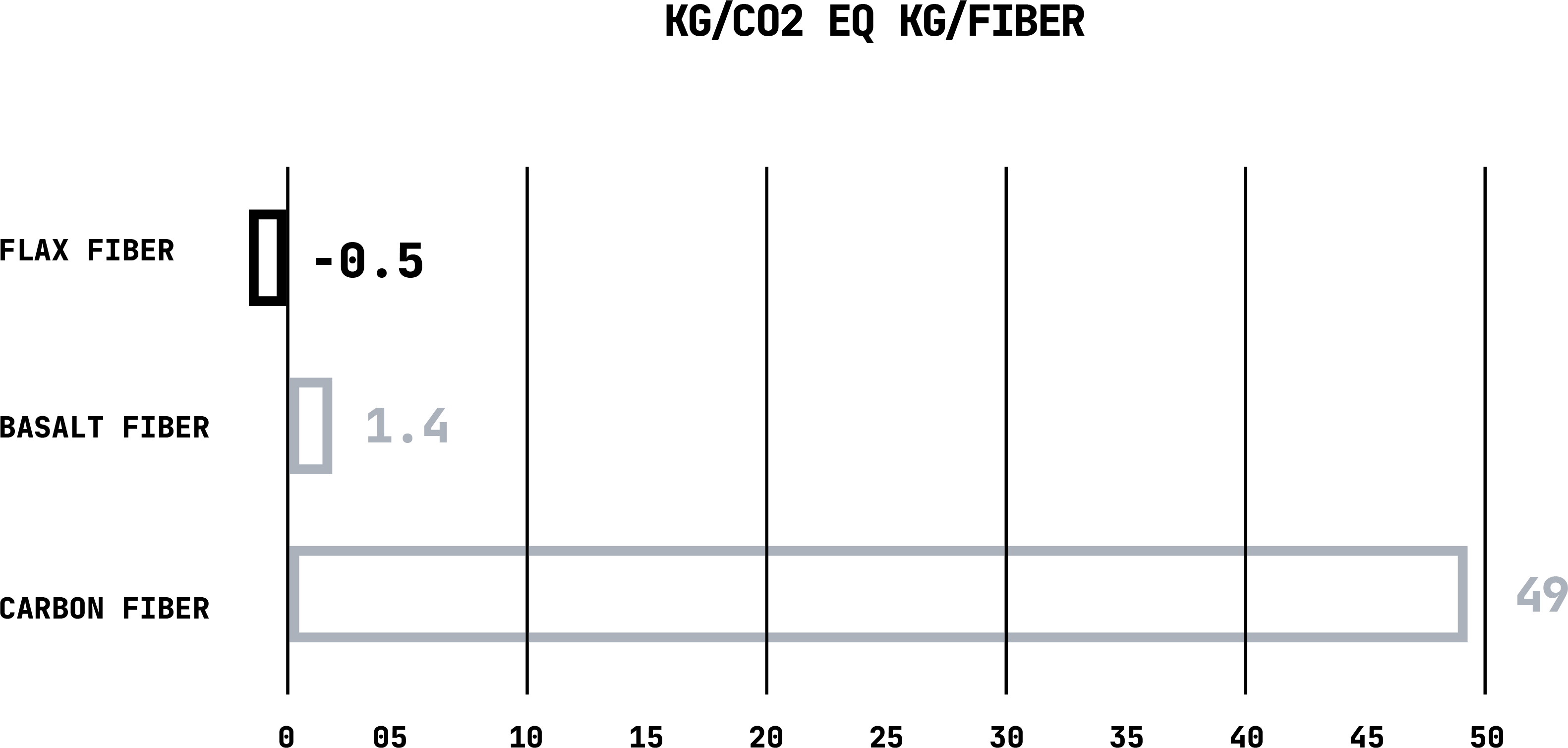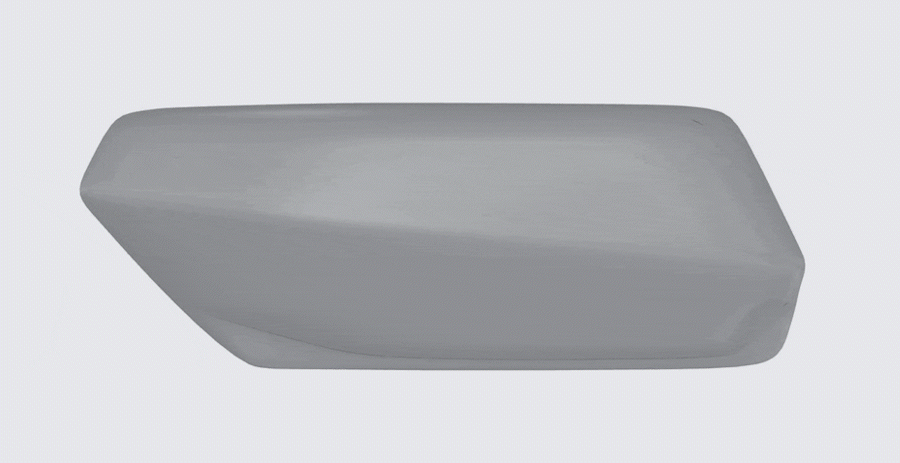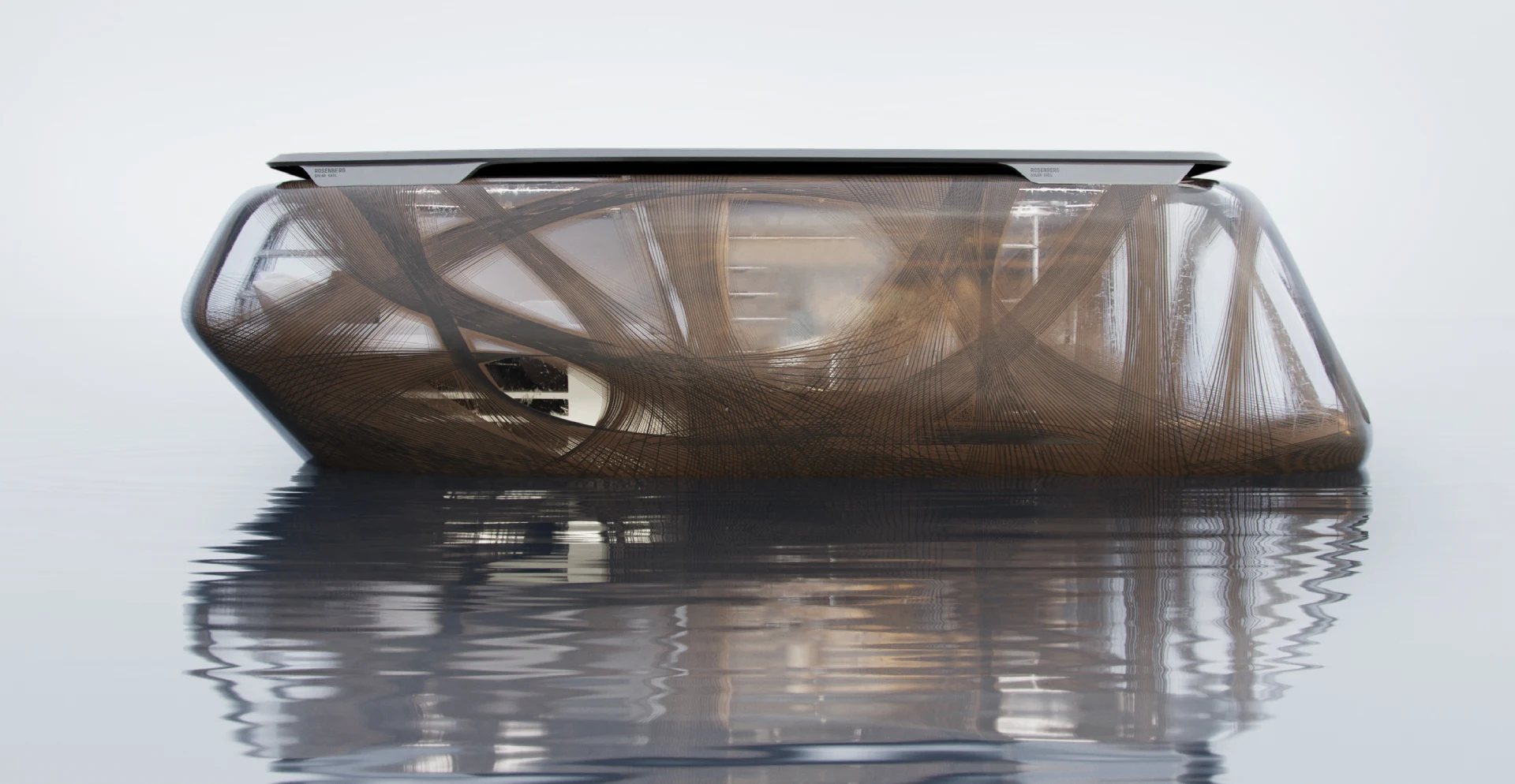 Our ultimate vision is to realize Blue Nomad using a weave of flax fiber to make the hull strong where needed. The weave will apply a gradient of material in areas where forces are impacting and make up large windows.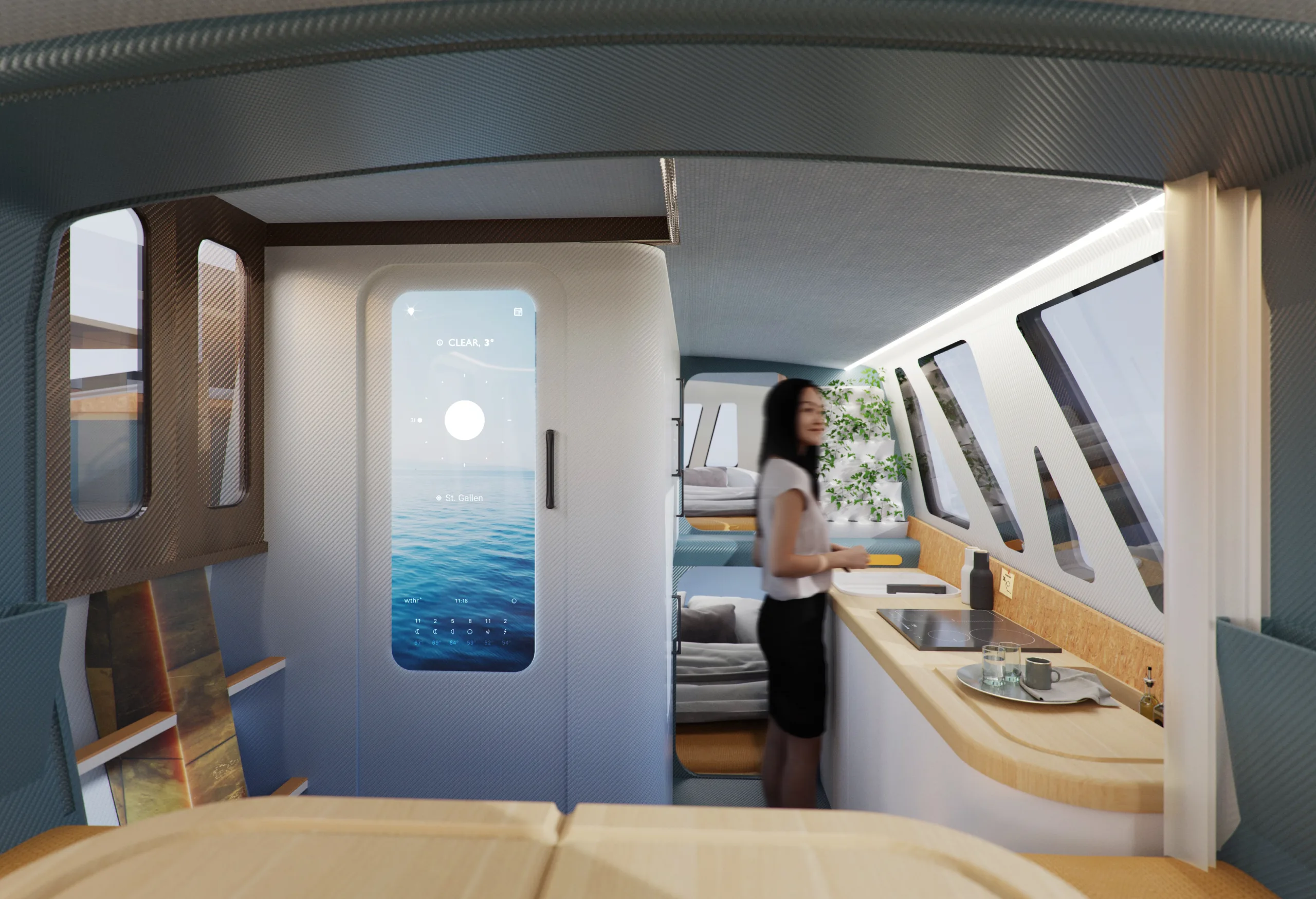 Living Space
The interior focuses on providing a comfortable and compact living space, featuring a full kitchen with an aeroponics tower, a bathroom with self-generated freshwater, and beds for four nomads. The living space measures no more than 12m². The material choices prioritize sustainability, incorporating algal tiles, cactus leather, and aqua cork.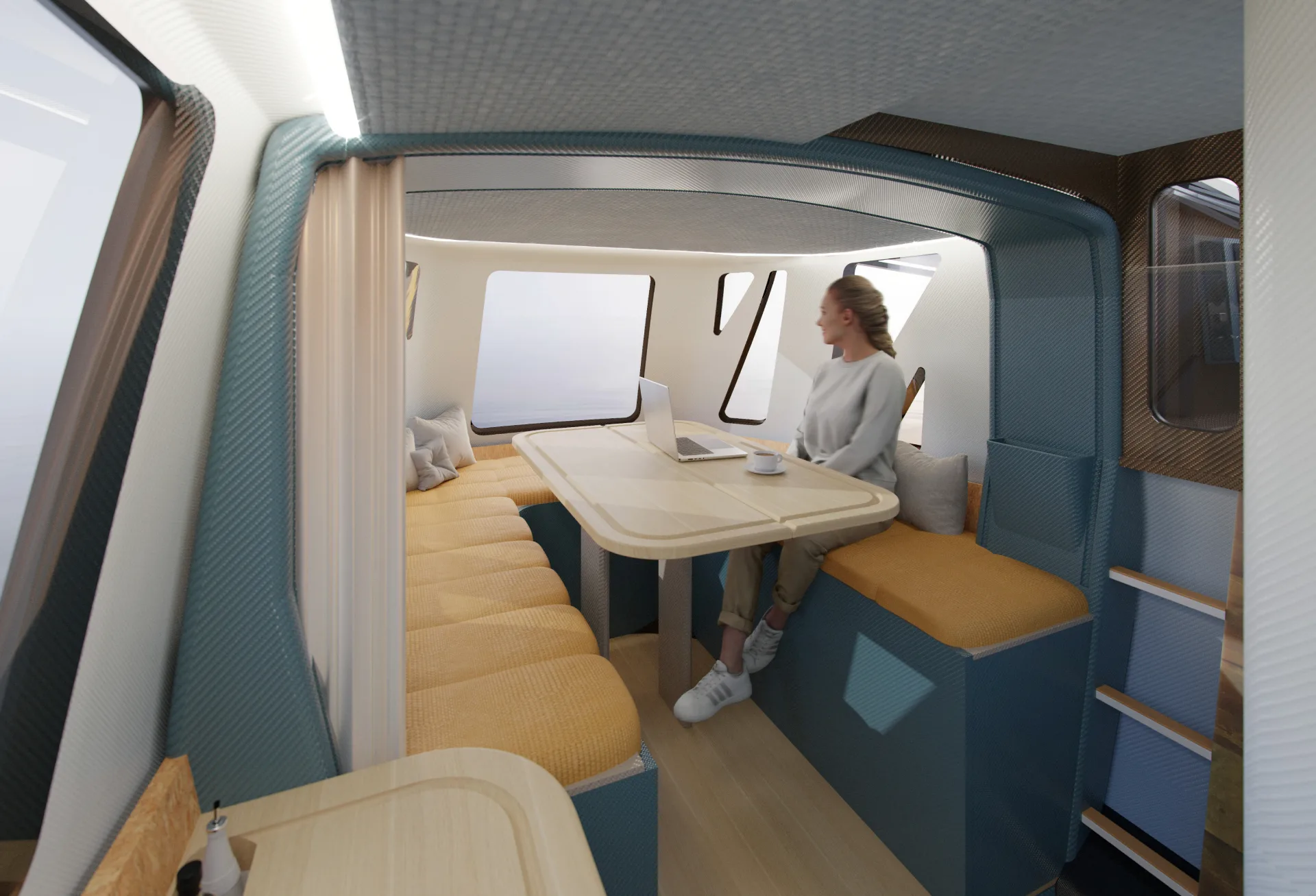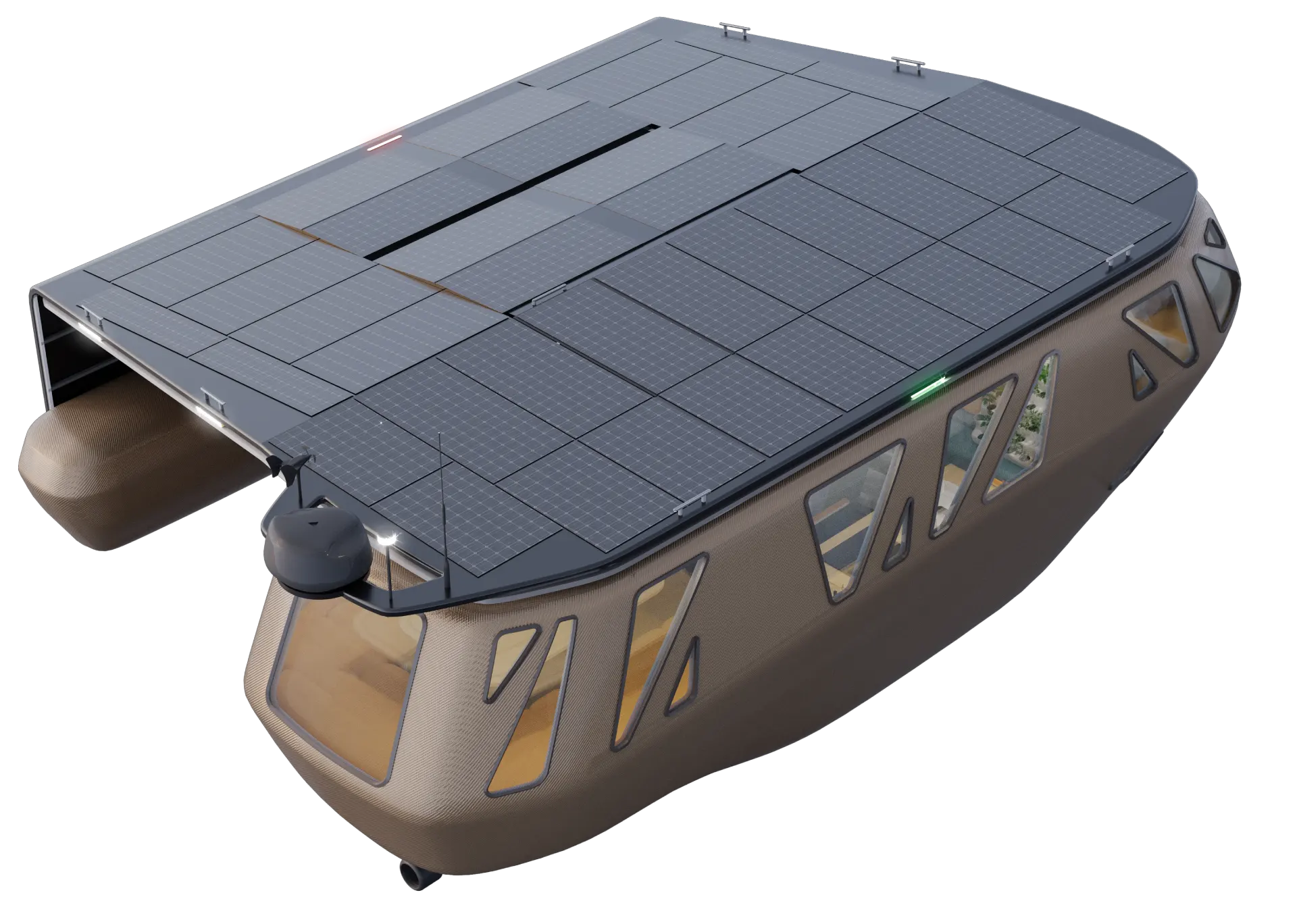 OCEAN GOING
Exterior dimensions:
6.7m long
4.8m wide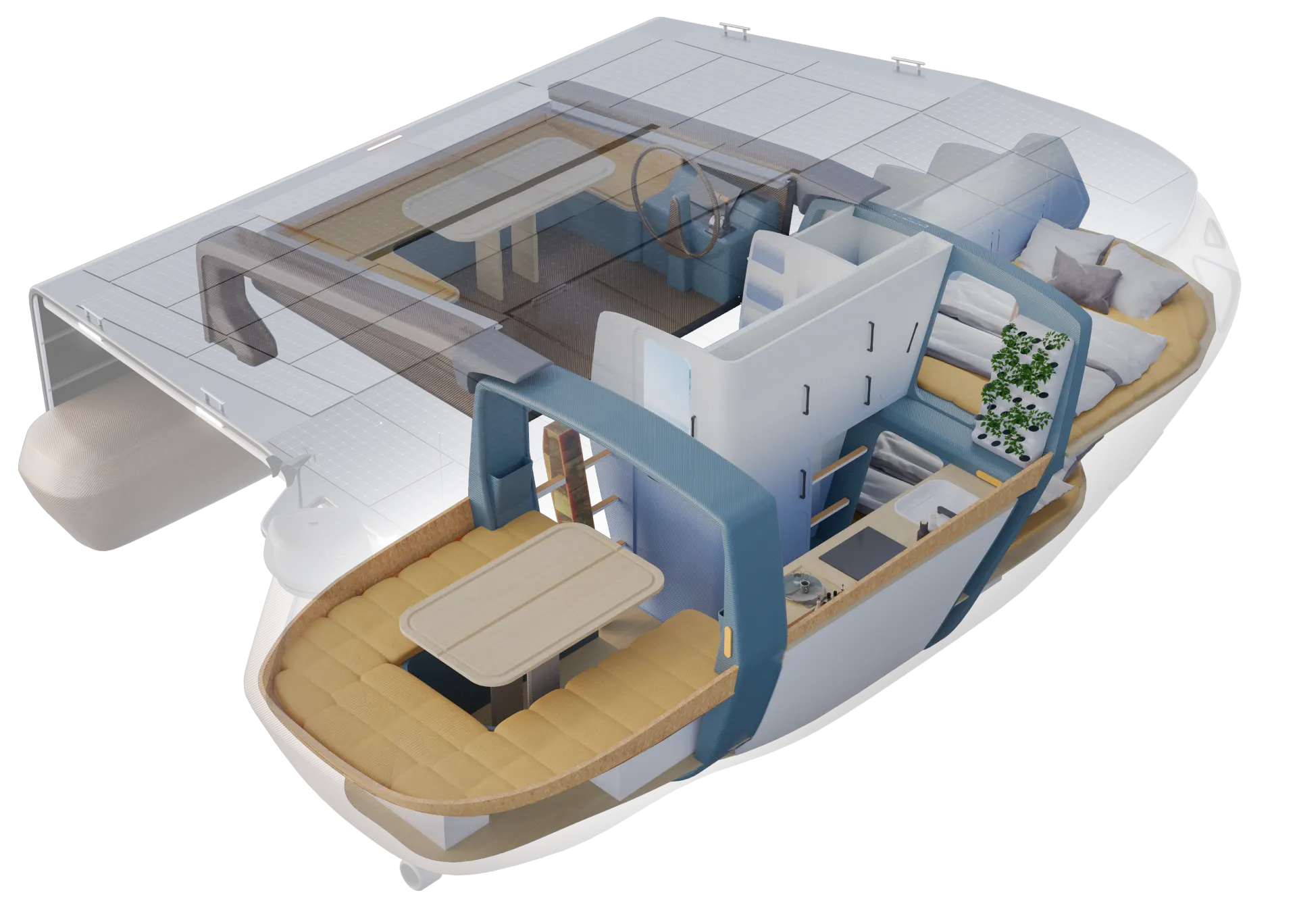 12m²
Interior dimensions:
6.5m long
2m wide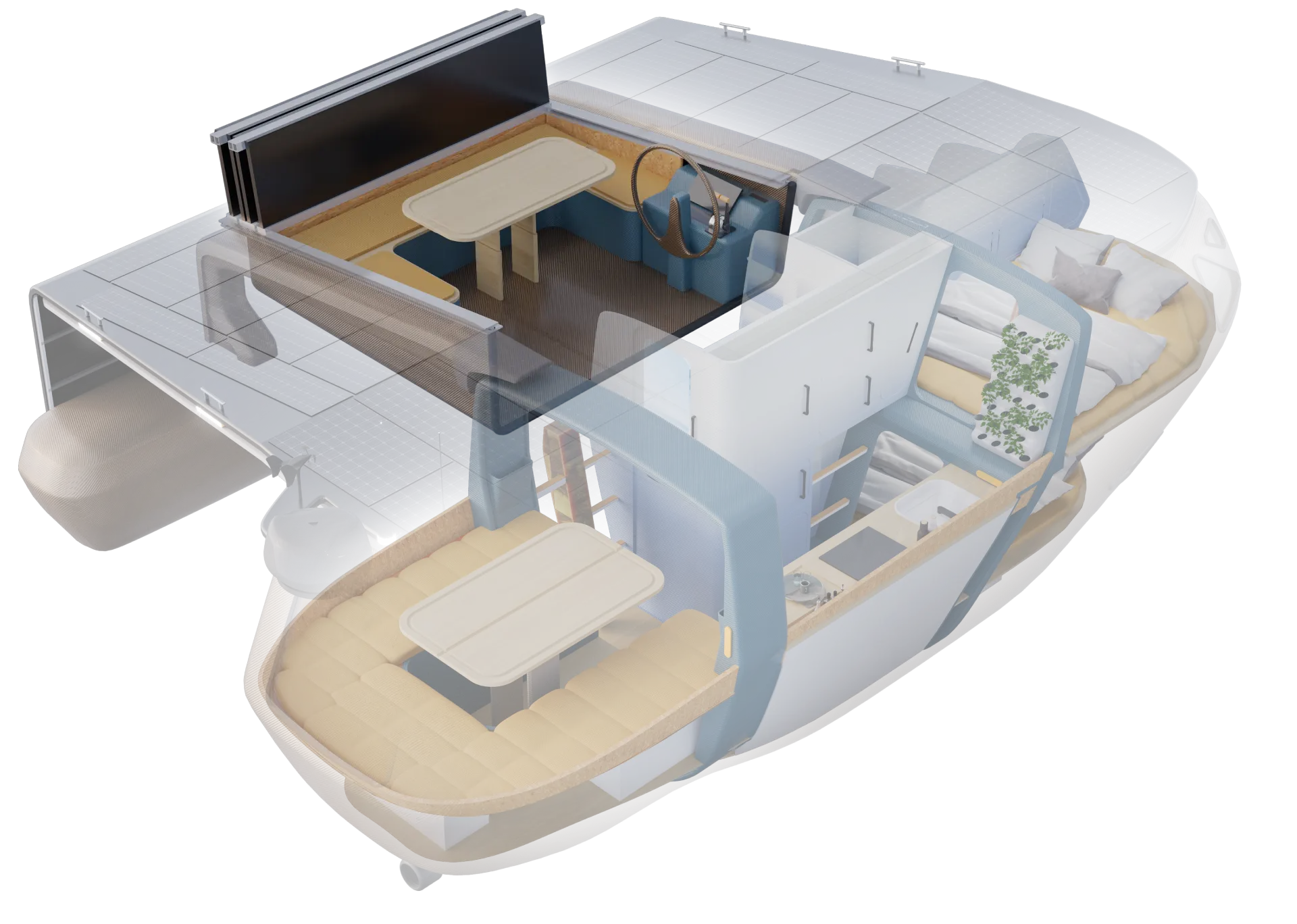 COURTYARD
Outdoor dimensions:
4m²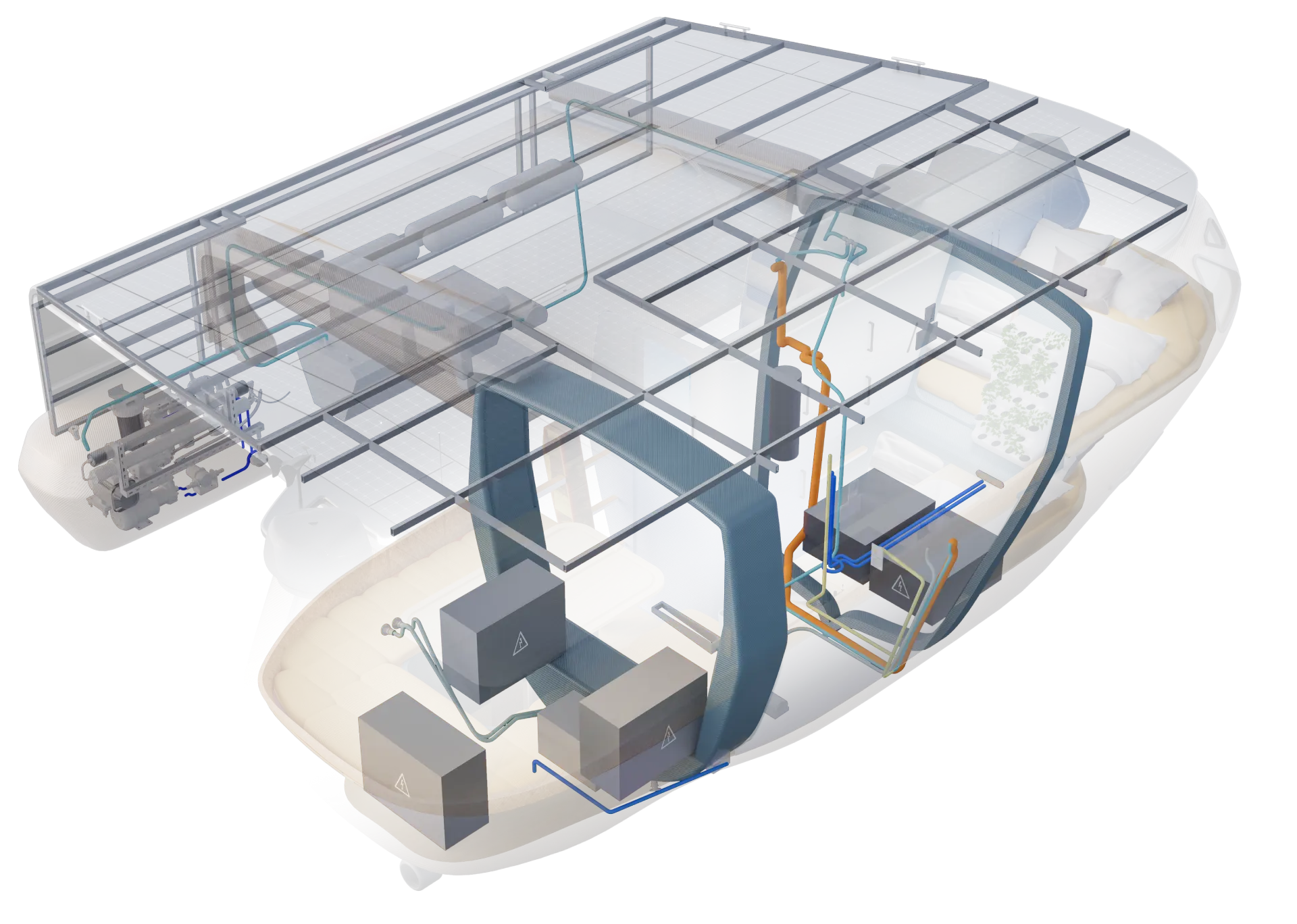 LIFE SUPPORT SYSTEMS
5.3 kWh Solar Panels
50kWh Battery Storage
E-Motor
Water Maker
300L Water Tank
AC Heat pump
Aeroponics Towers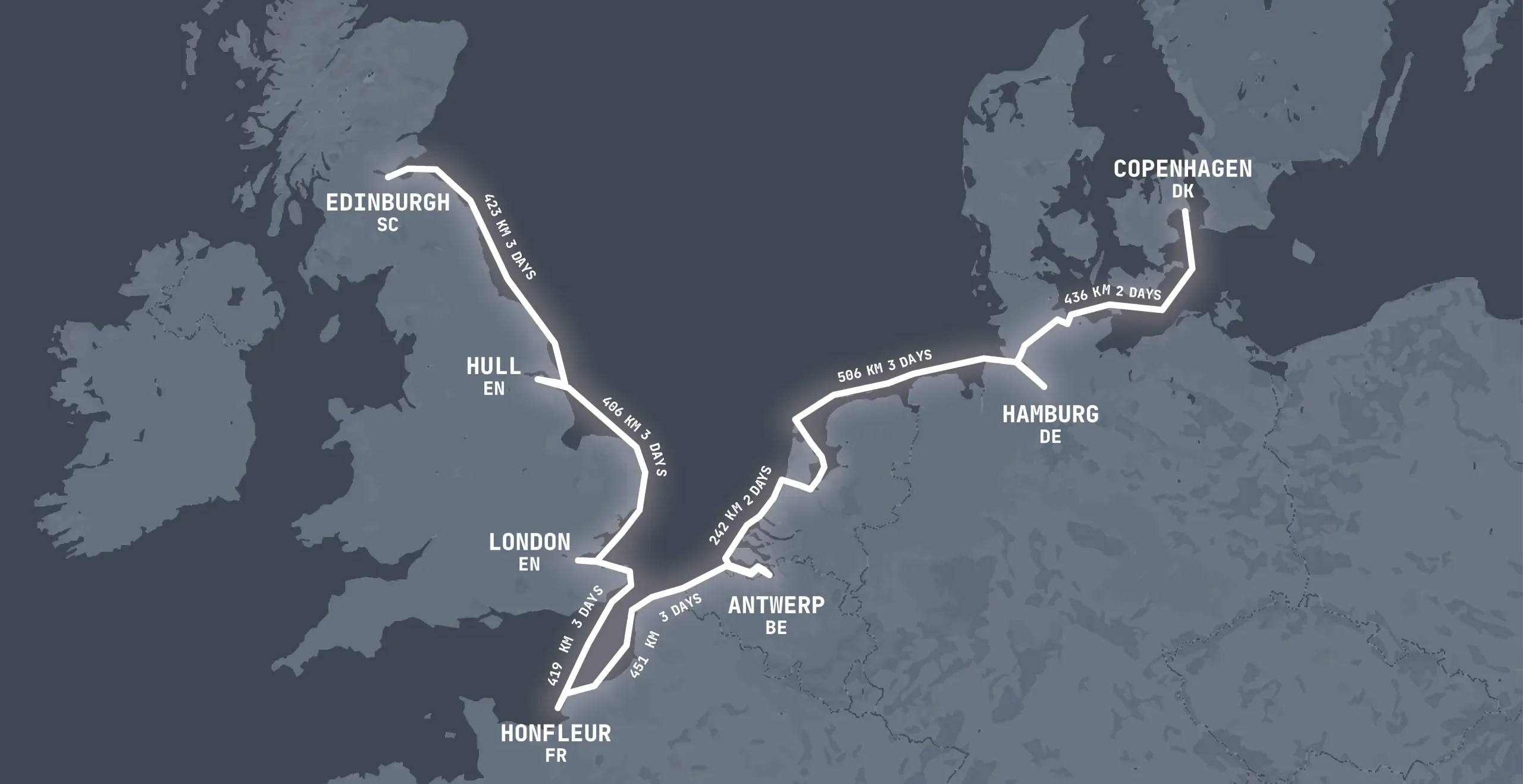 One Megawatt Maiden Voyage
The plan is to realize Blue Nomad in full-scale, with the prospect of embarking on a 3000 km maiden voyage across Europe. This journey will require 1MWh of solar energy exclusively. During this expedition, Blue Nomad will traverse seven countries. At each stop, local experts will be invited onboard to participate in a podcast discussing ocean sustainability.
60 DAYS
2967 KM
7 COUNTRIES
25 GUEST VISITS
1 PODCAST BROADCAST
BACKGROUND
SUN ENERGY
71% WATER
26% LANDMASS
3% URBAN
Every hour, the sun provides more energy to Earth than our entire population can consume in a year. With a growing population and rising sea levels, we aim to explore the oceans as a habitable space.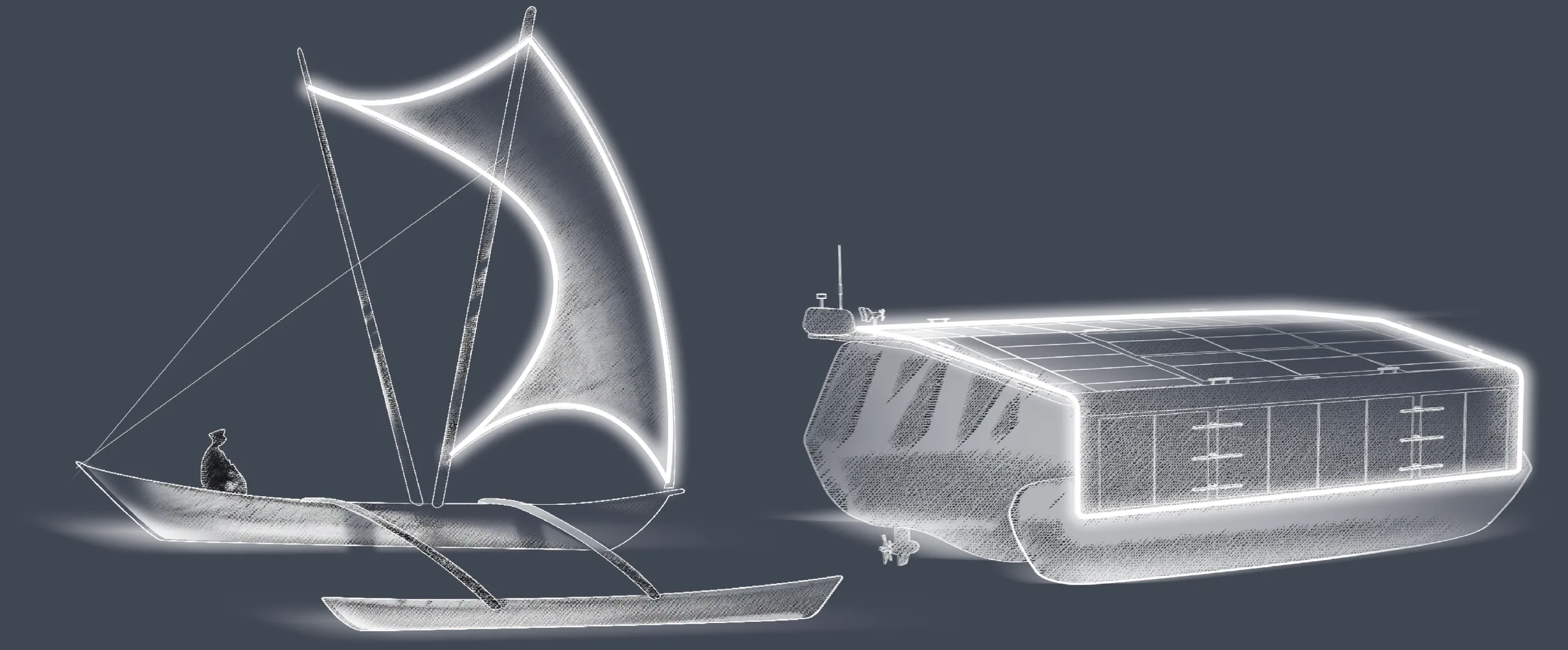 POLYNESIAN OUTRIGGER
Blue nomad
Blue Nomad draws inspiration from the first Polynesian Nomads, and strives to show we can go even further on renewable energy and organic materials to live on the ocean in a comfortable style.
DESIGN PROCESS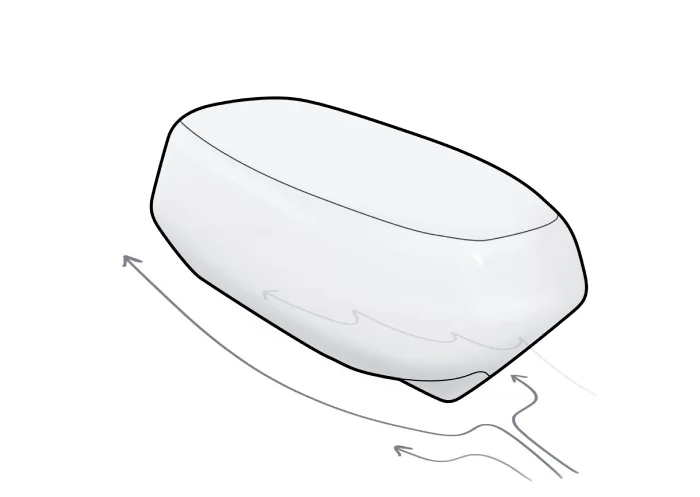 01. SHAPED FOR ROUGH SEAS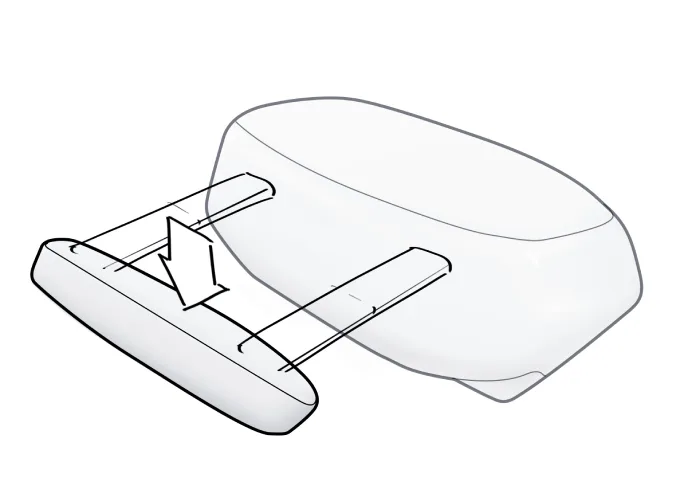 02. OCEAN STABILITY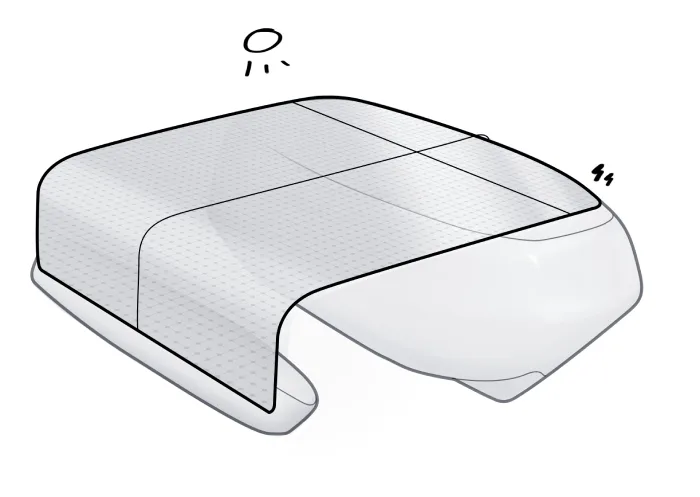 03. FULLY SOLAR POWERED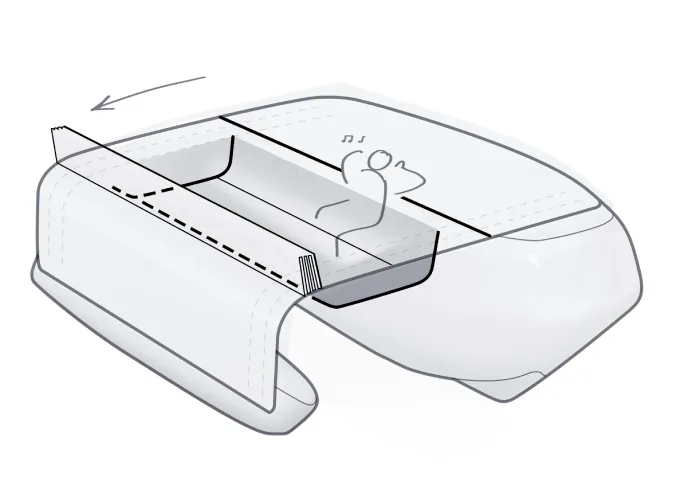 04. OUTDOOR COURTYARD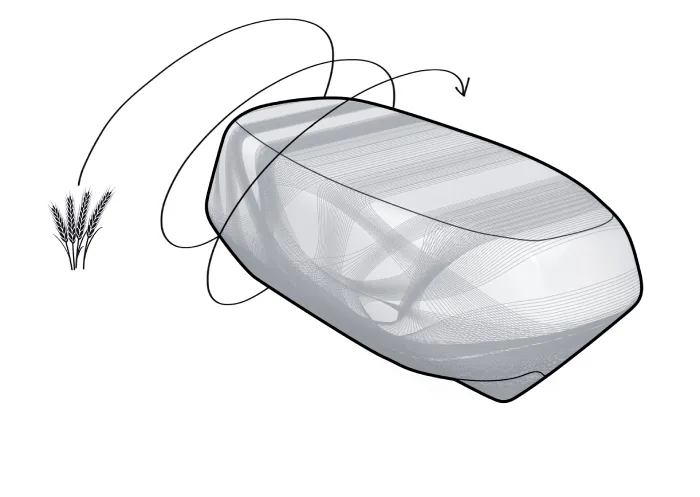 05. FLAX FIBER STRENGTH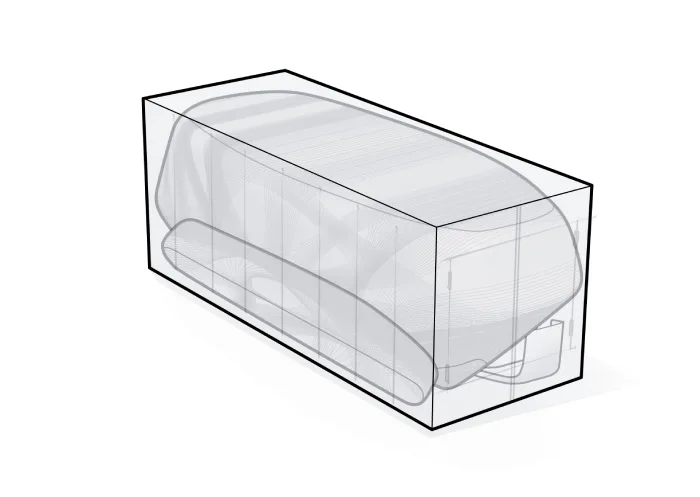 06. READY TO GO PLACES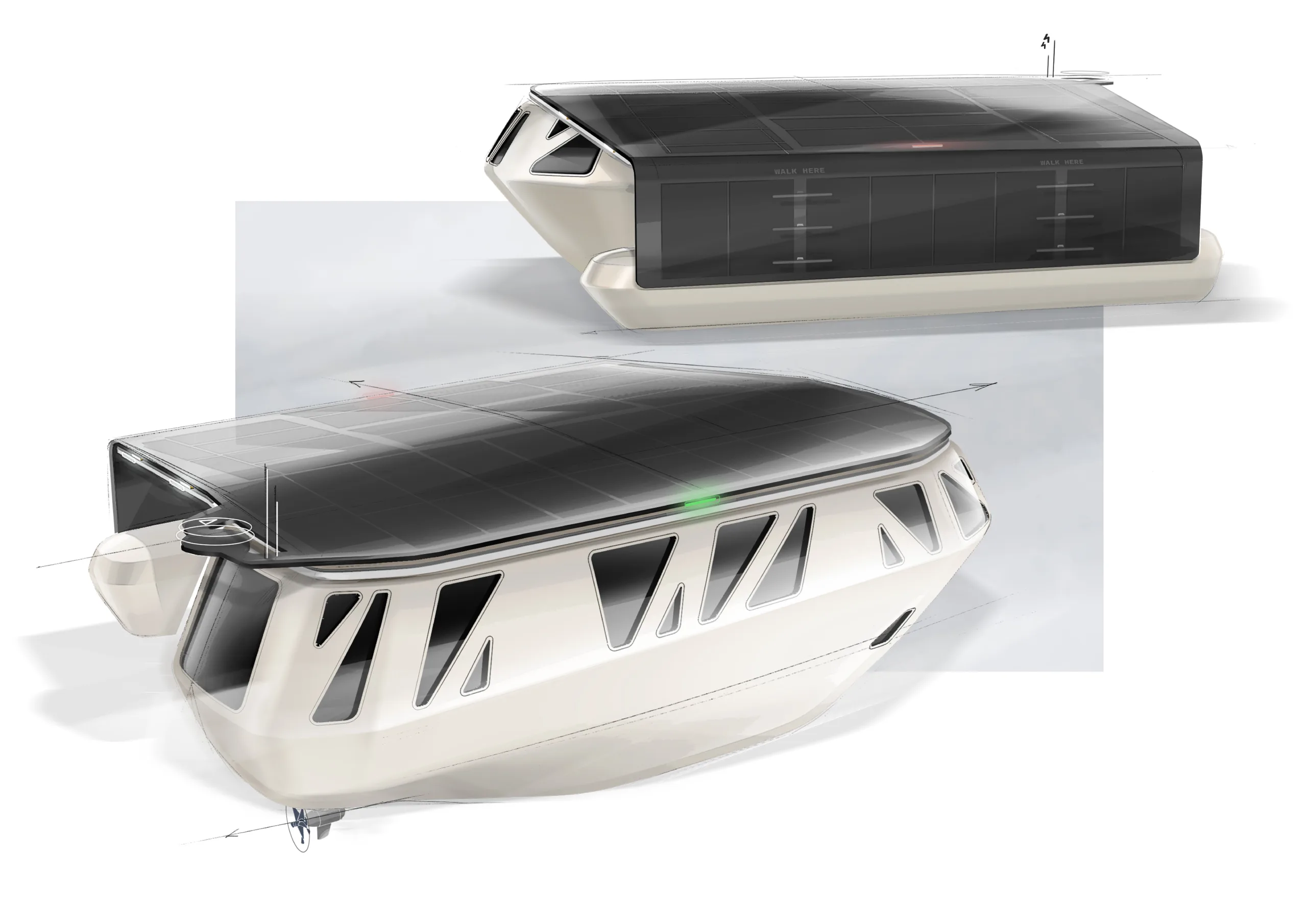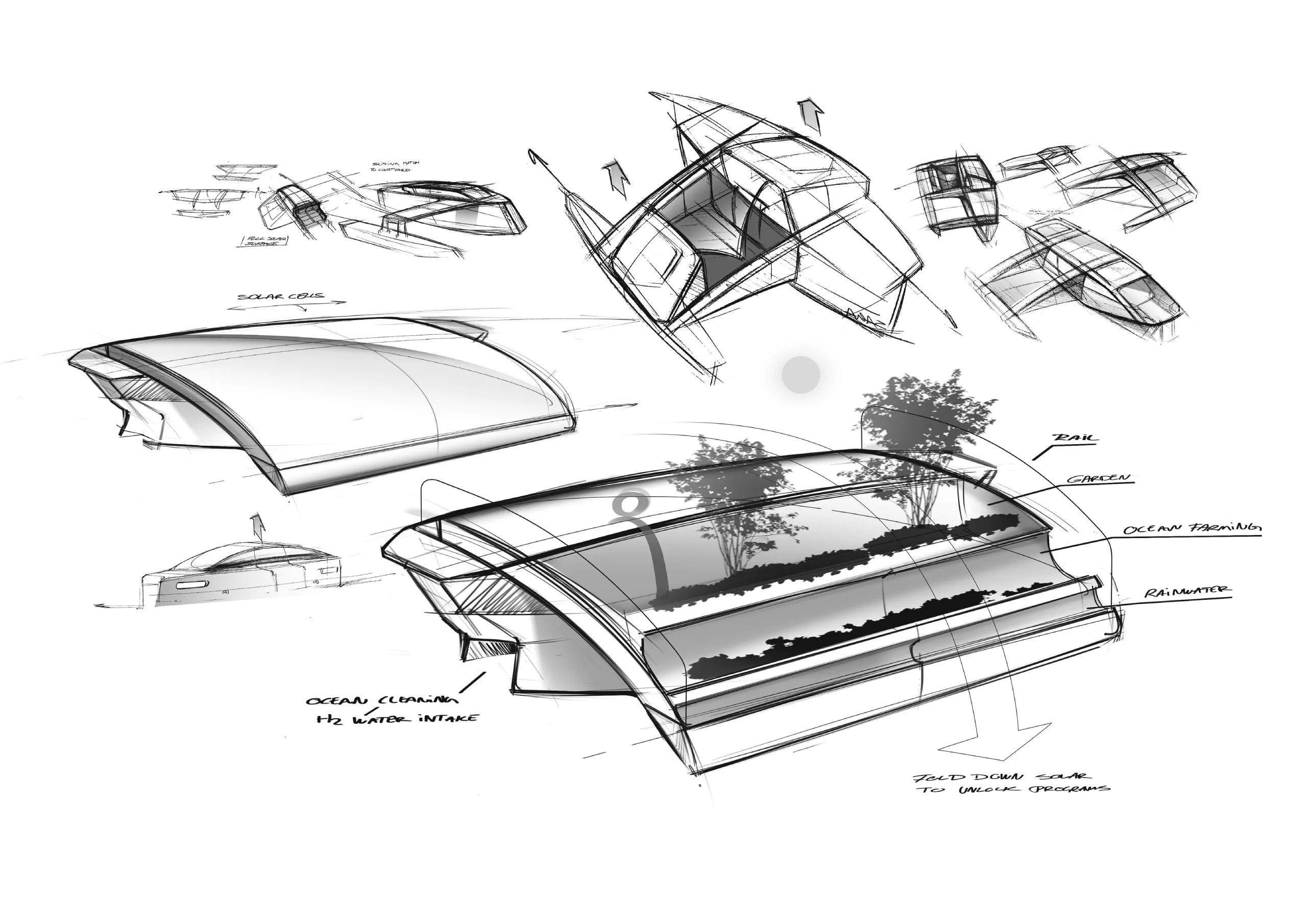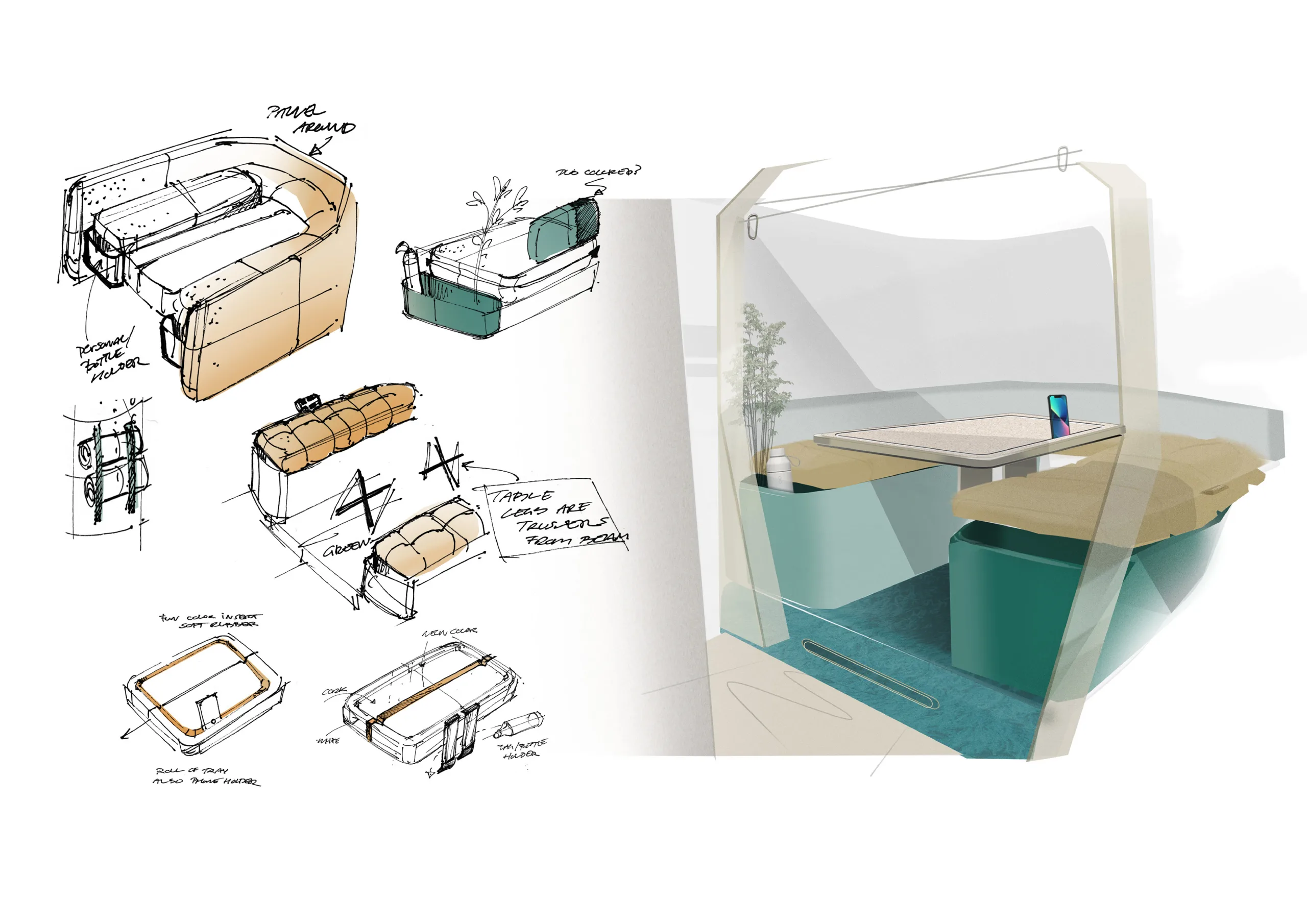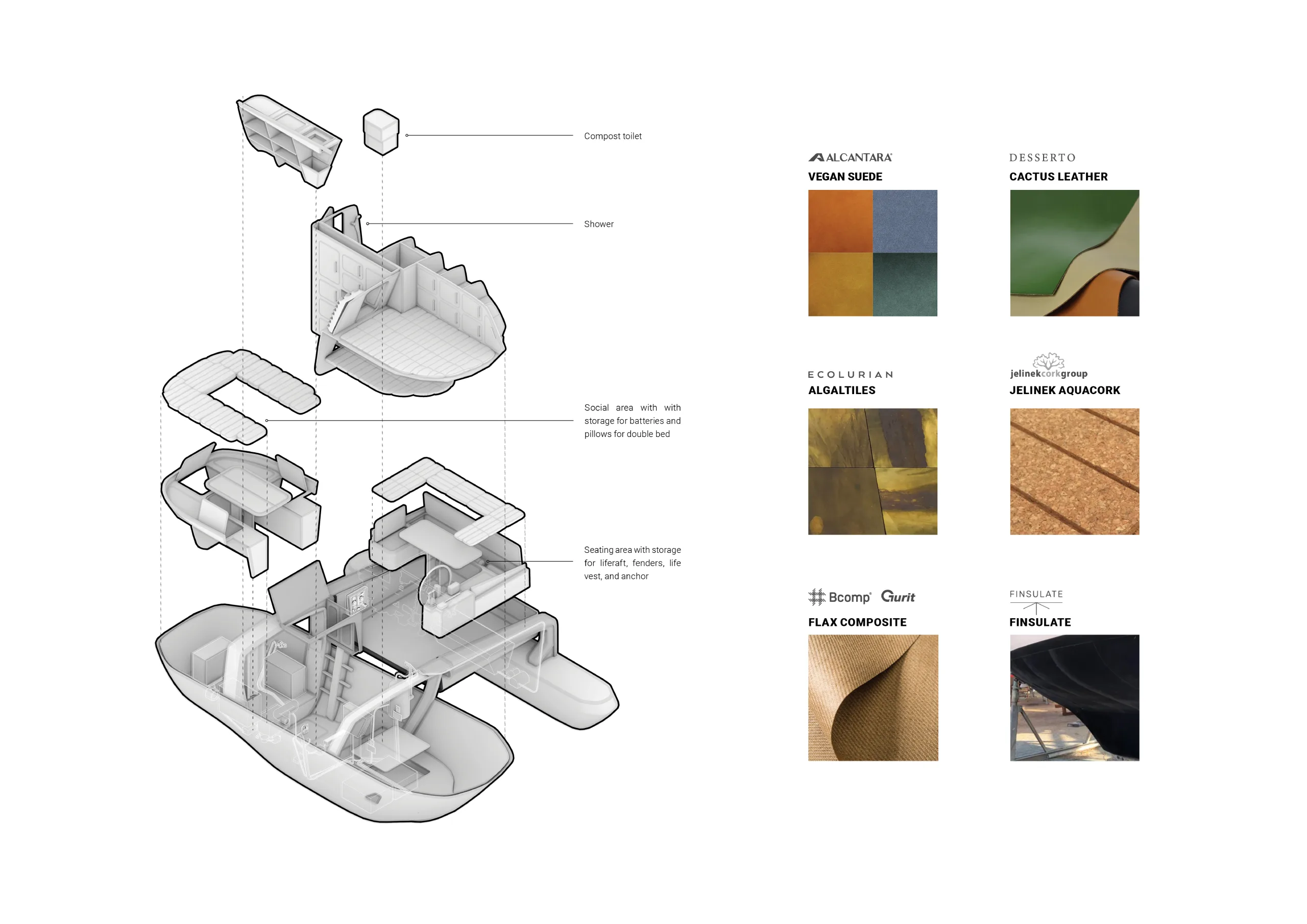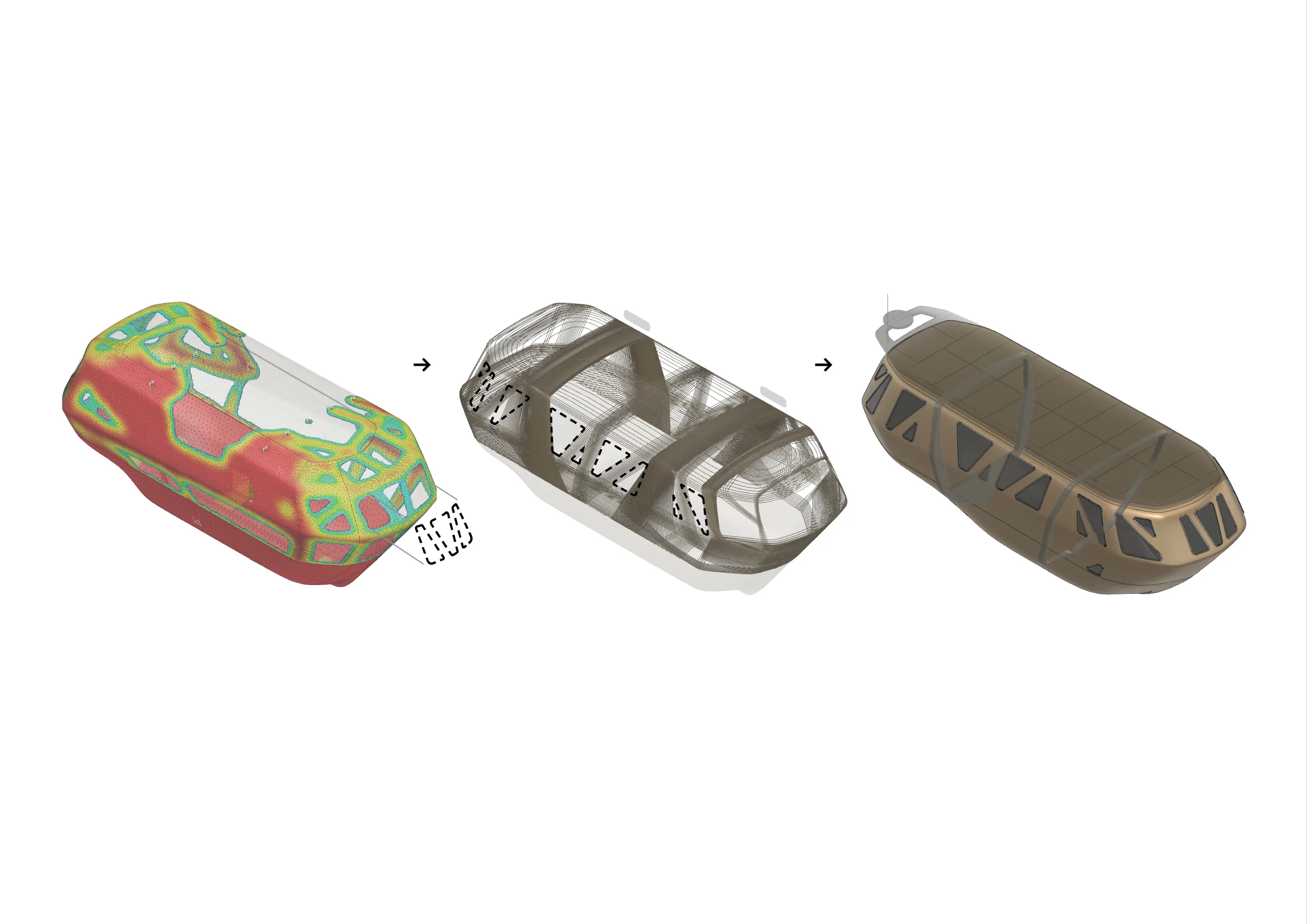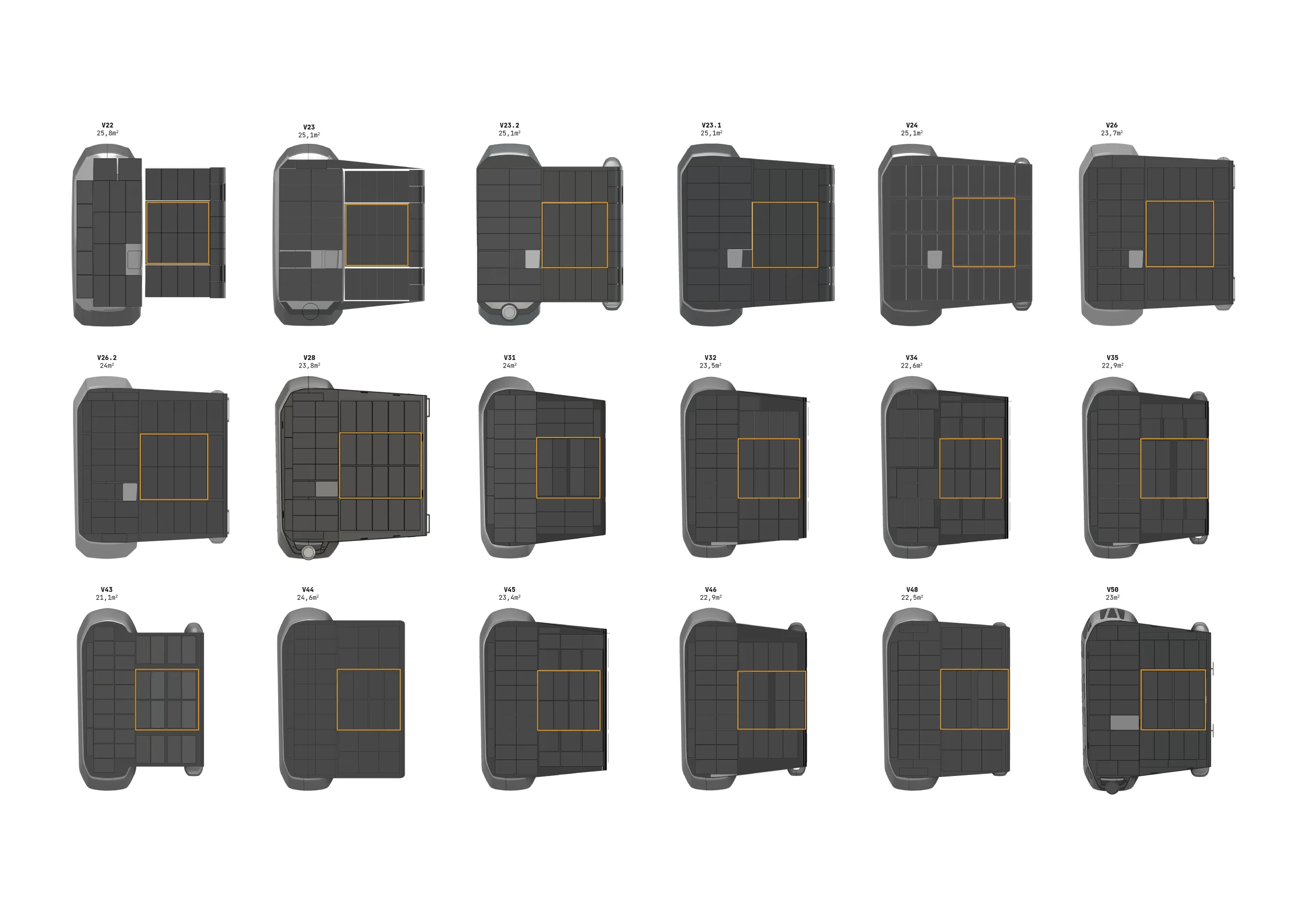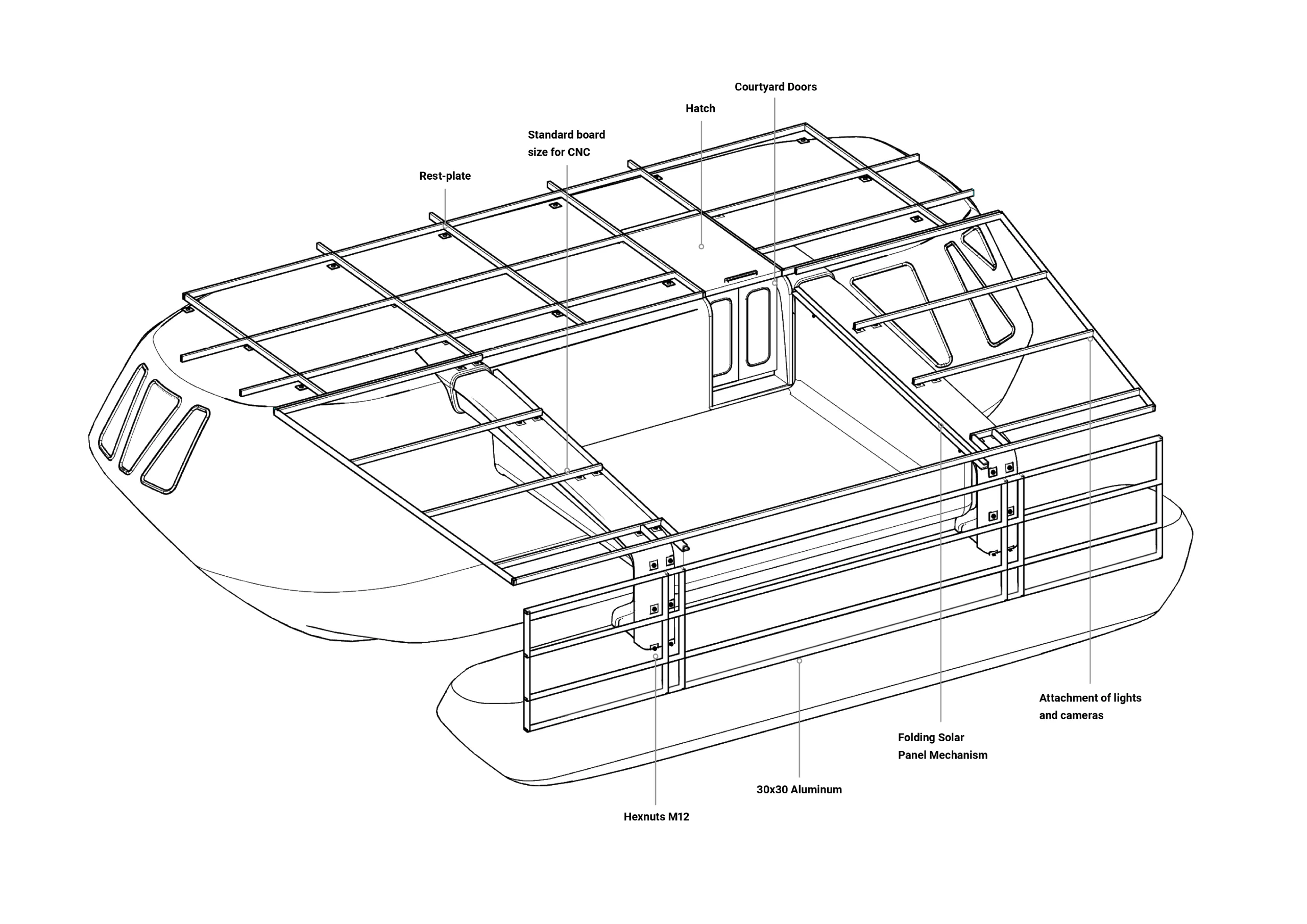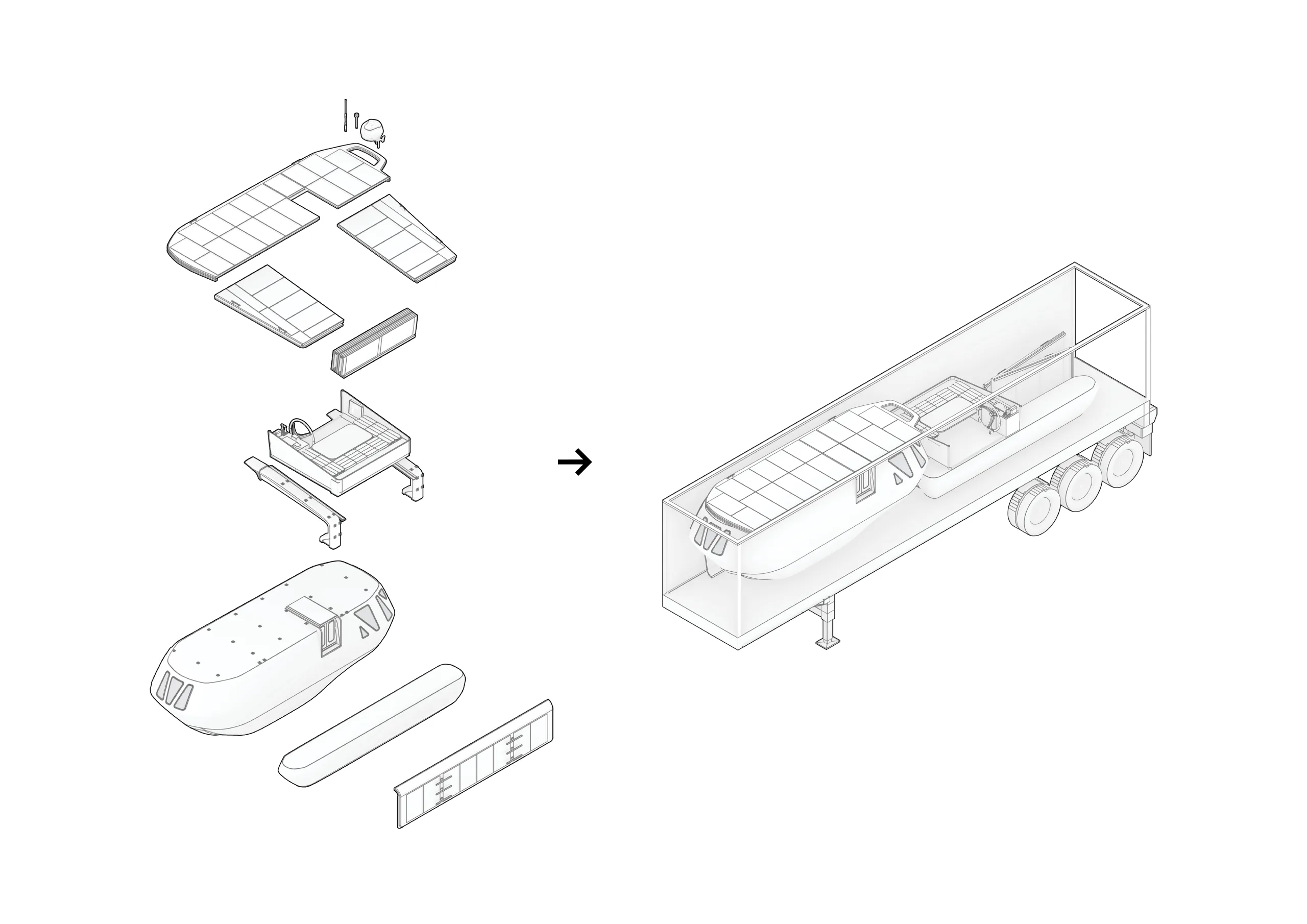 DESIGNED TO BE SEAWORTHY
Each design iteration has undergone testing in computational simulations and in physical scale models. These methods have driven the design forward, enhancing its performance in water, and making the habitat safe for use on the ocean.
COMPUTATIONAL HYDRODYNAMICS
PHYSICAL HYDRODYNAMICS
SIDE-HULL FORCE OPTIMIZATION
HULL FORCE OPTIMIZATION